Coming soon: TEDxScheveningen!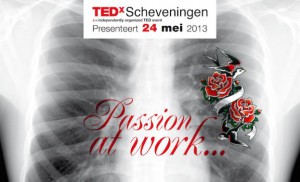 You don't have to wait unitl October 4th for your next TEDx event! On May 24th TEDxScheveningen will take place for the first time. The program looks very promising and the TEDxDelft team is very much looking forward to the event our TEDx colleagues have organised. The line-up contains an artist, two ballroom dancers, a theatre director and lots more, all presenting the talk of their life about Passion at Work, the central theme of TEDxScheveningen.We are definitely going to be there, will we meet you there?!
TEDxScheveningen will take place on Friday May 24, from 15.30-22.00 hours, at Theater Concordia in The Hague. Tickets are available at 47,50 Euro's including buffet diner.
Register now!