Rutger de Graaf – We are running out of land, so let's build on water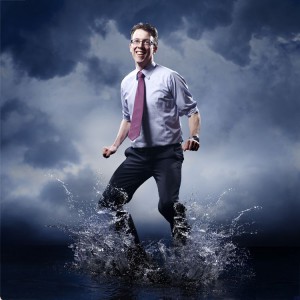 The cat is out of the bag, we have started to reveal this year's performers of TEDxDelft. Today we are proudly presenting another performer, Rutger de Graaf.
Rutger is a civil engineer, with an outstanding record in academia, and on a mission to make the world a more sustainable place by using creative, innovative, floating solutions to major problems such as flood risk, climate change and food scarcity. According to Rutger, one of the world's biggest challenges is urbanisation. All over the world, people are moving from rural areas to cities. Already a majority of people is living in cities, which are often vulnerable to flooding. The landshortage created by urbanisation, leads to shortage of resources such as food, fuel etc. One thing, Rutger says, the world has plenty of is water. Therefore his solution is to build cities on water.
As a director and co-founder of DeltaSync, his mission is to design and develop the first self-sufficient floating city in the world. He is convinced that these floating cities will eventually produce food and help to offer a high standard of living to a 9 billion population, while protecting ecosystems at the same time. He calls this the Blue Revolution. On October 4, Rutger will talk about the inspiring ideas behind the Blue Revolution. We are very excited to hear all about it.