TEDxDelft Salon 2013 | Feels like New York.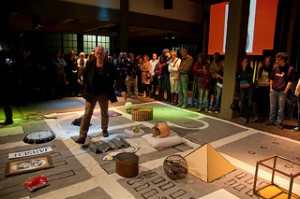 Written bij Janneke Hermans.
"This feels like New York." That is one of the first things I heard when I entered the former workshop building at Lijm & Cultuur where the TEDxDelft Salon Art, Chaos and Progress was being held. The old industrial building was filling up with people who, not knowing the entire line-up of the evening, seemed curious about what this TEDxDelft evening had in store for them. A certain level of excitement and the roughness of the location indeed made it feel like we were at a place where something 'special' was going to happen. A place like New York?
Lijm & Cultuur, the initiators of this TEDxDelft Salon, found the perfect opening of this "Art, Chaos and Progress" –event in chaos-magician Woedy Woet. Performers like Ramona Maris (poet, politician), Maartje & Kine (musical duo), Jan van der Mast (urban planner and writer), and others took the audience on a journey into their experiences, thoughts and ideas. From a poetic view on the capitalist culture on the Zuid As, via the lives of remarkable historic figures, uplifting music which simply 'makes the world a little more fun', to the revelation that indeed the audience could memorize a poem in only 10 minutes time. And along the way stopping at several places which spurred the audience to think: true TEDxDelft style.