TEDxDelft 2013 | Keeping the TEDx spirit alive!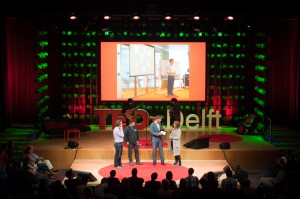 TEDxDelft is famous for their ability to touch and inspire people.
We make people think, we start conversations and we provide brilliant speakers with engaging audiences and help them change the world.
So why stop now?
After today, there will be lots of side events that will keep the spirit of TEDx alive here in Delft!
For one, we are carrying on with the TEDxDelft Salons from the 11th of October onwards. The TEDxDelft Salons take place in the orange room at TU Delft Library, are monthly recurring events and are small in size (1 live performer, 1 TED video, a discussion afterwards). All this in lunchtime (lunch will be provided) from 12.30 until 13.30. For more information, visit this website.
Also, on 22 October, we are carrying on with TEDxDelft Cinema. Together with Filmhuis Lumen, we present an evening of watching TED videos in a beautiful cinema in Delft. Each month a guest presents his inspirations and motivations via talks and videos. The evening ends with a surprise movie and this month the honor of curating this, goes to Linda Ammerlaan!
Last but not least, we would love to invite you to TEDxDelft Youth on 12 November! Here the youngsters inspire other young people with their stories and adventures, in order for them to pursue their dreams and ambitions. This free event will take place in theatre " de Veste" in Delft. For more information and to register, you can visit this website.