TEDxDelft 2015 | Save the Date!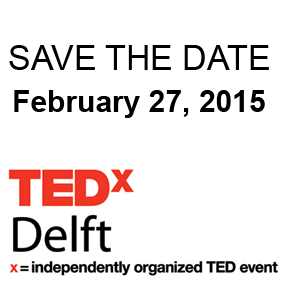 Let great ideas inspire you. On February 27, 2015, TEDxDelft returns with an impressive panel of speakers, cutting-edge ideas, inspirational stories and fun side events. Tickets will be on sale soon, so make sure you circle the date on your calendar.
The theme for 2015 is Let's Make Things Beta and it's all about co-creation, crowdsourcing and creating unfinished things. Our focus is to encourage the community of scientists, designers and thinkers that are the hallmark of Delft to be motivated and proactive about following through on great ideas.
Started in 2011, the event is a TEDx program – a self-organized, local event that brings people together to share a TED-like experience. The platform has been growing ever since, and the event in 2013 was attended by 900 people. Our website, which also streams the event live, had over 10,000 visitors on the day.
Over the next couple of weeks, we will update our website with more information about speakers and TEDxDelft salons – side events that range from cinema to children's activities. Stay tuned for more.