TEDxDelft 2016 | Kevin de Randamie | Calling for a creative revolution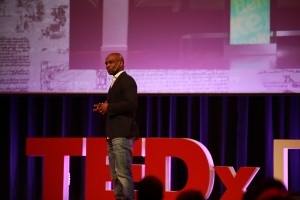 "What is the economic value of the creative?" Kevin de Randamie asked. Economic value and creativity, a combination of words not often seen. Nevertheless, De Randamie believes it necessary for the creative industry to start considering it.
De Randamie's big passion has always been music, as a hip-hop artist and an entrepreneur. During his time working in the creative industry, De Randamie has seen and experienced many things which have shaped his vision about the creative industry as a whole. "I was doing well, releasing my own music as well as that of others," he recounted. That is until 2010, when the government announced spending cutbacks to the arts and culture and he, along with much of the creative sector, took a big hit, going as far as selling equipment to make ends meet.
De Randamie is fascinated by the fact that "the creative industry is the only industry that does not require resources to create value." And yet the perceived economic value of the top 20% of performing artists seems exaggerated while that of the remaining 80% is largely discounted, discredited or ignored. He is convinced that his lessons from difficult times have led to a solution that could help the 80% get out of the shadows. De Randamie proposed that artists should obtain the business acumen to ensure financial stability so that they do not need others to take care of their finances. By developing these skills the creatives will go against the grain and become the most impactful creatives of our time in their own right. Developing these skills will be the best investment one can ever make.