The people behind TEDxDelft | Molly Quell | Striving for a greater whole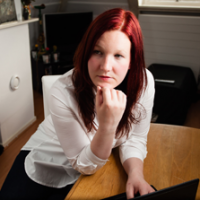 During her time as part of the TEDxDelft organisation, Molly Quell, international editor and digital strategist, has performed various functions. So what position does one give to someone who was previously in charge of communications and marketing, organises and co-hosts the salons, and was the license holder for TEDxDelft women? Project manager, naturally.
"I started working on marketing and communications because I thought the organization was really interesting," Quell explains. "Then it just sucked me in more and more." Having led the marketing and communications teams during previous iterations, she gradually became more involved through organising the TEDxDelft salons and the first ever TEDxDelft Women's event. Now, as project manager, Quell is responsible for the operations and logistics of all TEDxDelft events. Given her familiarity with the different facets of the platform, this new position should suit her very well.
With her experience from previous events, Quell is well placed to help further improve the organisation, ensuring that behind the scenes everything goes as smoothly as possible. The logistics of a TEDxDelft event comprises many components, and with a solid organisation the whole can be greater than the sum of its parts. With Quell in charge of TEDxDelft's operations and logistics, rest assured the organisation will strive for nothing less.
How long have you been a part of the TEDxDelft team?
Four years.
Who is your favorite speaker from a previous TEDxDelft conference and why?
Hans Rosling, because he always has incredibly interesting ways of viewing the world and Reggie Watts, because his talk is really entertaining.
Theoretically if you could choose any one person, historical or fictional, to give a talk at TEDxDelft who would it be and why?
Probably any important historical figure: Genghis Khan, Cleopatra, Queen Elizabeth II as they would all have very interesting stories to tell.
Are there any hobbies you secretly enjoy outside of work?
It is not really a secret that my hobby is beer.
If you could give a TEDx talk, what would you talk about?
How to tell people no.
https://www.tedxdelft.nl/wp-content/uploads/2016/02/TEDxDelftLogoWebsite.jpg
0
0
Pierre Mathieu
https://www.tedxdelft.nl/wp-content/uploads/2016/02/TEDxDelftLogoWebsite.jpg
Pierre Mathieu
2015-11-02 14:00:37
2015-11-02 10:50:57
The people behind TEDxDelft | Molly Quell | Striving for a greater whole