TEDxDelft 2016 | Daan Verlaan | A good song is about more than its meaning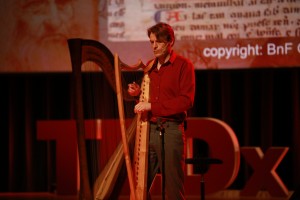 "I sing, play, and compose," said Daan Verlaan. "And for me in a song, all of these worlds come together." Accompanying himself on the harp, he sang an 800-year old song composed by a troubadour, "an accomplished and serious artist." He explained the text of the first verse: the image described a lark flying happily, yet the person himself was not happy, as became clear from the sombre tones.
Music artist Daan Verlaan calls himself a generalist, rather than a specialist. He studied both Greek and Latin and contemporary classical composition, but opted for a career in music. And with success: over the years he has received numerous prizes for his compositions, and he is a much-loved choir singer, soloist and harpist. A lover of medieval and modern music, he has also worked as a tour guide at the Boerhaave Museum for the History of Science and Medicine.
"Medieval music is different from later music," Verlaan explained. "Medieval harmony is not written down, but implied in the melody." He continued with a song in English: "I fall in love too easily … for love to last." He skipped a few centuries to jazz music with this song originally written for a 1944 Hollywood movie, and now a jazz standard. "There are similarities between medieval and jazz music. Improvisation is important in both. As a musician, you make up your mind about what is the essence to you."
For Verlaan, the words without the music would be charming, the music without the words would be nice, but "together they really make sense to me." That is because expression can be not just in the words, but in the rhyme scheme, the melody. "For me, a good song is making connections between these layers of expression, and creating a new perspective. And it is the performers task to engage the audience to experience this together."
https://www.tedxdelft.nl/wp-content/uploads/2016/02/TEDxDelftLogoWebsite.jpg
0
0
Site Default
https://www.tedxdelft.nl/wp-content/uploads/2016/02/TEDxDelftLogoWebsite.jpg
Site Default
2016-04-15 14:45:35
2016-04-15 14:56:50
TEDxDelft 2016 | Daan Verlaan | A good song is about more than its meaning