TEDxDelft 2016 | Harteveld & Fretz | The story of imagination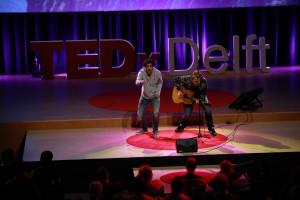 Harteveld & Fretz are best friends, and brothers, or at least it feels that way. They have just turned 30, and that made them wonder whether they are still holding on to the big dreams of their youth. Fretz would like to spend a week at the Hilton hotel making love to his girlfriend for world peace, like John Lennon and Yoko Ono. "That was a great story, and 45 years later I drive by the Hilton and I still think about that," he said.
Marcel Harteveld and Johan Fretz together form the duo Brothers Harteveld & Fretz. Their collaboration dates back to their time at the Amsterdam University of the Arts. Their first full-evening show was entitled 'Underway' and dealt with the subject of a generation going backpacking on the other side of the world, to experience an inner revolution. Their shows are exercises in social and self-criticism, but the duo manage to strike a balance between seriousness and lightheartedness, making them eminently watchable.
Fretz has a story of his own to tell, too. When he was in his twenties he went on a backpacking trip to find himself. "I guess that is why they call them developing countries," he joked. "After six months of backpacking I still had not found myself. Perhaps there was not that much to find in the first place." At the end of his backpacking trip, Fretz got talked into taking a trip along the Dead Road, a very dangerous mountain bike road. He tells the hilarious story of that hair-raising trip. At some point along the Dead Road he has to let go, forget about danger, and his mind goes blank. "And that is why we need great storytellers, whether they are the people on the TEDxDelft stage, or John and Yoko making love for world peace," he concluded, making you wonder whether it all really happened in the first place.
https://www.tedxdelft.nl/wp-content/uploads/2016/02/TEDxDelftLogoWebsite.jpg
0
0
Site Default
https://www.tedxdelft.nl/wp-content/uploads/2016/02/TEDxDelftLogoWebsite.jpg
Site Default
2016-04-15 18:44:01
2016-04-15 18:45:12
TEDxDelft 2016 | Harteveld & Fretz | The story of imagination