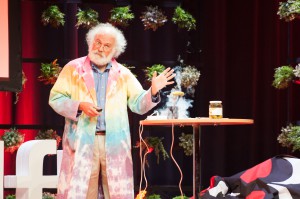 Dr John Cohn is a self-confessed nerd. He already knew he wanted to be an engineer at the age of eight, found himself a nerdy college, a nerdy job and even a nerdy wife, or at least a fellow-engineer.  As a nerd he breaks the mould though.  Because onstage, with his rainbow-coloured lab coat, his Einstein-inspired hairdo and his party light headband, he is most of all entertaining and fun.  That ties in with his motto:  keep things playful. Bring a playful spirit into your work.
John says he is at his most creative, influential,  productive and happy when he is playful at his work. With playful he means being in a state of childlike innocence.  So playfulness is not just about enjoying your work, you are even more creative, as studies show. You can also reclaim that childlike state, by imagining you are still seven years  old.
Life however, has a way of taking play away from us. The harder life gets, the more we have to work at staying playful. If work is not playful anymore, than it is just work. Which is why they call it work, incidentally.  Six years ago, life became very difficult for John, when his son Sam died in a car crash. Sam was an organ donor, and when his life ended he saved the life of four other people. Needless to say, John's life changed forever. And trying to get his life back on track involved a playful element, although he didn't think of it like that at the time. John and his family started making SamStones, small stones with Sam's name on it. Now, over six years later,  some 40,000 SamStones have travelled all over the world, and each stone tells a story. One of them even went to space and back.
Life will give you reasons not to play, and you have to fight back!
read more
TEDxDelftCinema over lekker eten, water en geld
Een avond waar een professor watermanagement, een docent economie en een thuiskok met elkaar in gesprek gaan, afgewisseld met ludieke, schokkende,  informatieve stukken cinema. Klinkt leuk? Mooi, dat lijkt mij ook. Dus: 14 januari 2014 om 19.30 in filmhuis Lumen in Delft: TEDxDelftCinema, met als host/curator:  Rolf Hut!
Want die thuiskok, dat ben ik. Een kant van me die ik niet vaak buiten de privé-sfeer etaleer. Behalve als ik taart moet meebrengen naar werk. Dan ga ik los. Bij de eindpresentaties van "meten aan water" had ik dus 50 cupcakes in 4 smaken mee.
TEDxDelftCinema is een avondvullend programma in filmhuis Lumen waar een curator de kans krijgt zijn visie/inspiratie te delen, gebruik makend van video fragmenten (onder andere TED video's). Toen Rob van TEDxDelft en Jerome van Lumen mij vroegen om een avond TEDxCinemaDelft te verzorgen was het onderwerp snel gekozen. In het nieuws hoor ik regelmatig over misstanden rond de productie van het voedsel waar ik zo van hou. Ik doe daar niets mee en sluit moedwillig mijn ogen. Daarom heb ik mijn vrienden Nick van de Giesen en Michel Frijns uitgenodigd om met mij op het podium plaats te nemen en te bespreken of er iets mis is in de voedselwereld, hoe dat komt en of we er iets aan kunnen doen. Het wordt een soort zomergasten, maar dan live in een bioscoop.
Dus 14 januari vanaf 19.30 (tot ongeveer 2300) staan Nick van de Giesen, Michel Frijns en ik in Lumen voor TEDxDelftCinema. Komt allen! info hier. Reserveren via 015 214 0226.