TEDxDelft 2013 was themed 'Do try this at home'. We had 16 performers (everybody on a TEDxDelft stage is a performer) and a few interviews on our stage on 4 October 2013 and a full day of inspiration.
Jamal Mechbal – Fighting homelessness, my way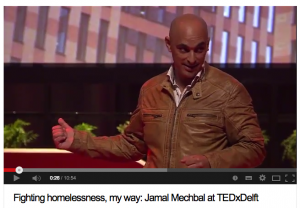 You think you have it all — graduated from three different universities, a good job and a great marriage — and then it all falls apart. Your marriage ends, you lose your job and you become homeless. It happened to Jamal Mechbal and it can happen to all of us according to him.
It does not matter how you end up in this situation, what matters is how you deal with it. At TEDxDelft, Jamal speaks about his fascinating and inspiring story of being homeless and recovering from it.
Watch the TEDxDelft talk on Youtube: Jamal Mechbal – Fighting homelessness, my way
Rutger de Graaf – We're running out of land, so let's build on water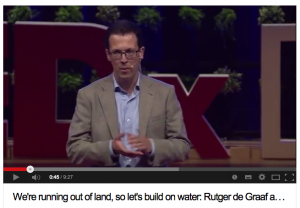 Rutger is on a mission to make the world a more sustainable place by using creative, innovative, floating solutions to major problems such as flood risk, climate change and food scarcity. According to Rutger, one of the world's biggest challenges is urbanisation. All over the world, people are moving from rural areas to cities.
Already a majority of people is living in cities, which are often vulnerable to flooding. The landshortage created by urbanisation, leads to shortage of resources such as food, fuel etc. One thing, Rutger says, the world has plenty of is water. Therefore his solution is to build cities on water.
Watch the TEDxDelft talk online: Rutger de Graaf – We're running out of land, so let's build on water
Damaris Matthijsen – Creating an economy that honors life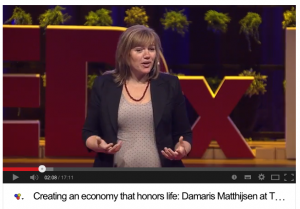 Social entrepreneur Damaris Matthijsen's personal philosophy in life is simple; understand yourself and trust your gut. Founder of the pioneering economic movement – Economy Transformers – Matthijsen's journey began with disillusionment.
While studying to be a social worker in Driebergen, she went on a trip to Suriname for an internship. "I began to notice how the economic situation alienated the people. Even more so because Western concepts had been imposed on people out of context. It was the first time I realized the impact economy has on human life," she says. It wasn't just abroad; Matthijsen found that the economy had little regard for human life everywhere in the world. "I realized that even I was alienated by the economy. That every individual was relegated to second position – whether in a company where he has no share of profits or in a competitive environment where he has to push himself incessantly.".
Watch the TEDxDelft talk on Youtube: Damaris Matthijsen – Creating an economy that honors life
Scott Cunningham – Predicting the future and mapping the present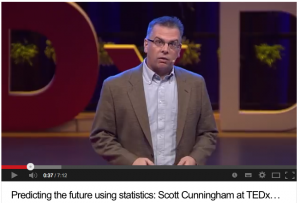 Scott Cunningham jokes that "Big Data" might be his fault. He began his career at telephone service provider AT&T, where he focused on using data to improve customer experiences. Now he wants to use data to predict the future.
Born and raised in Georgia to English parents, Cunningham's accent reflects his mixed roots. He completed his PhD in England and now lives in Delft with his French wife. His global background has influenced his career, as part of his research now focuses on the creation of social connections.
His most recent publication, Tech Mining, focuses on the prediction of new technologies and that is also the topic of his talk for TEDxDelft.
Watch the TEDxDelft talk on YouTube: Scott Cunningham – Predicting the future using statistics
Carin Boersma – Flipping development from top down to listening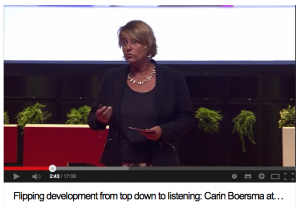 Binaries limit progress and create boundaries where there should be exchange. For Carin Boersma, Program Officer at Oxfam Novib, understanding this is the key to moving forward. "No one should assume that they know what is best for others. It is important to learn from each other and see what solutions others have to offer. If knowledge remains a one way process, it will be limited and not fruitful. There has to be an open and honest dialogue,". While, she agrees that there already has been a change in attitude, she feels there's still a long way to go. She will share her thoughts, knowledge and dreams with us that are needed to get there.
Watch the TEDxDelft talk on YouTube: Carin Boersma – Flipping development from top down to listening
Ben Bronsema – Air conditioning with wind, sun and water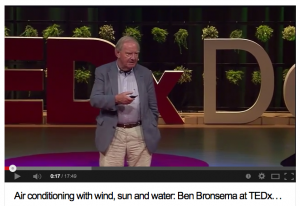 Whoever said that "it's not easy being green", must have known what he or she was talking about. Of course, science has made some remarkable progress over the last decade when it comes to clean energy, but how many of those developed clean energy models have actually been integrated within the architecture of our homes and offices? (Power sockets excluded.).
We can hear you think, that stationing a big eco-friendly power plant on your rooftop would perhaps be a little too much, but somewhere in the nearby future you could consider to let nature take over the office building you work in!
Watch the TEDxDelft talk on YouTube: Ben Bronsema – Air conditioning with wind, sun and water
Matthew Rogers – The joy of failure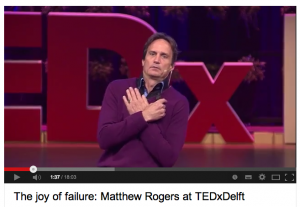 Matthew Rogers combines strength, brains and musicality to battle the unexpected events in life. Matthew plays the didgeridoo, he is an attorney and a boxer.
You never know what life has in store for you, something Matthew has experienced, like all of us.
Using his musical talent, practicing sports and his (cum laude graduate) brain, he turned life's experiences into a method, hoping that the TEDxDelft audience will benefit from it.
Watch the TEDxDelft talk on Youtube: Matthew Rogers – The joy of failure

Maarten Frens – What would you do if you were limitless?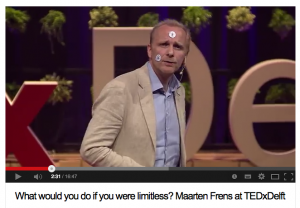 Imagine if you were able to be the best at whatever you wanted! Be it mastering a language, working out complicated mathematical equations, or being able to paint with the skills of van Gogh or Rembrandt — it's all attainable.
Maarten shares his expertise and experiences with Transcranial direct current stimulation (tDCS); a ground-breaking technique that could enable us to be, well… Limitless. In short, tDCS is a form of neurostimulation which uses constant, low current delivered directly to certain brain areas of interest.
Watch the TEDxDelft on Youtube:Maarten Frens – What would you do if you were limitless?

Marije Nie – One Million Steps, a tap dancing adventure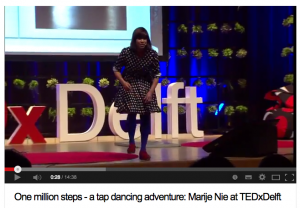 Marije Nie is a musician with her feet, a dancing percussionist. Her tap dance style is the perfect symbiosis between music and dance. The rhythm dictates the movement and the movement determines the sound. She feels at home in many different kinds of music: jazz, improvisated music, worldmusic, (contemporary) classic music, experimental electronica and dance. With her skills for improvisation and her passion for experiments, she created her unique niche between composed and improvised music. At TEDxDelft she will present her tap dance adventure, the film One Million Steps.
Watch the TEDxDelft talk on YouTube: Marije Nie – One million steps

Gerwin Smit – Developing the lightest ever prosthetic hand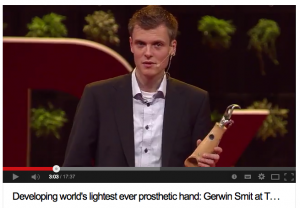 Current prostheses are far from perfect. They are too heavy, too hot, and do not provide sufficient sensory input. But Gerwin Smit might have changed that. His prosthesis is now known as "The Delft Cylinder Hand".
However, it is not all about precision and light weight: looks really matter too. Gerwin Smit says that the prosthesis also needs to be nice to look at. "It's all about the three C's: cosmetics, comfort and control". It seems that the "Delft Cylinder Hand" meets these requirements.
Watch the TEDxDelft talk on Youtube: Gerwin Smit – Developing the lightest ever prosthetic hand
Tangarine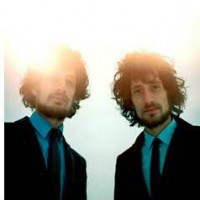 Tangarine – aka the hardest working twin in The Netherlands – has captured the attention of many music lovers in The Netherlands and beyond.
The theme of TEDxDelft matches Sander & Arnout perfectly. 'Do try this at home', or in their case 'Do try it all yourself' was the credo of the guys for years. Playing everywhere where you could imagine one to play. From living rooms, to theatres, to festivals to community centres. They did it all themselves: creating a stage, selling tickets, being their own roadies, light- and soundmen. They even cleaned up after their gigs…. Read more
Anne Walraven – I've got a world changing mission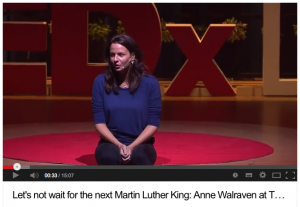 It is often said to ask the young because they know everything. However Anne Walraven is only 27 years old and on a personal quest based on a question. How? How is it possible that in 50 years' time the Maldives will not exist anymore. Just simply disappearing under water. Gone. When this notion hit, Anne cried for 3 days and found herself confronted by 3 options: 1)get cynical and detach from the world 2) go to the Maldives on holiday, eat, drink and jump around while you still can without scuba gear 3) separate right from wrong, become an activist on hunger strike and chain herself to government buildings
Naturally she choose option 4.
Watch the TEDxDelft talk on YouTube: Anne Walraven – Let's not wait for the next Martin Luther King
Krashna Musika – Energetic, syncopated rhythms coming right at ya!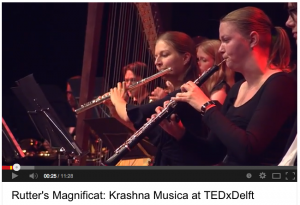 After concluding the ninth lustrum and a year full of great projects – among others the opera of Carmen, the St John Passion and a tour to Paris – the orchestra and choir of music students in Delft, Krashna Musika, starts this fall with an English programme, which contains the 2nd symphony of the British componist Egon Wellesz and the Magnificat from John Rutter.
Rutter is mainly known for his chiefly choral compositions that include Christmas carols and anthems. His more extended works are a Gloria, a Magnificat and a Requiem.

Watch the TEDxDelft performance on YouTube: Krashna Musica – Rutter's Magnificat
Japie Stoppelenburg – A Schoolyard named Facebook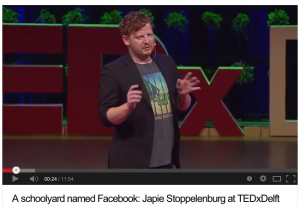 Japie Stoppelenburg, conceptor, copywriter, designer, researcher, director, singer, dancer and actor — often for clients and mainly for fun, gave a dazzling speech about the resemblances between Facebook and a schoolyard.
From a marketeer's point of view, you probably dream about how Facebook leads to golden mountains, high end-user engagement and long-term customer loyalty, and you probably spend a good deal of your day working towards these goals. Then how comes that you still can't get there?
When it comes to marketing your brand on Facebook, Japie states that most of the brands don't quite get what they are working on, and mostly; they are doing it wrong! Japie puts his money where his mouth is, explaining to us that Facebook is nothing more than a schoolyard, where the same rules and social structures apply.
Watch the TEDxDelft talk on YouTube: Japie Stoppelenburg – A schoolyard named Facebook
Maartje en Kine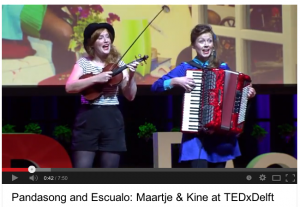 Disarming and charming, musically talented and original, young and ambitious, sweet and vicious, sharp and funny, energetic and fascinating, blond and red, Dutch and Norwegian. That's what Maartje & Kine are!
At TEDxDelft they performed two songs. The first one is "the pandasong", the second is a piece by Astor Piazzolla and is called "Escualo".
Pandasong
On world animal day, Maartje en Kine sing and play a song about the panda. The song is about the possible extinction of this beautiful animal because it refuses to have sex and reproduce. Quotes from the song:
They're all watching panda-porn but not to their delight
The pandy lady masturbates only with bamboo
If you mix two pandas, there simply is no way that black and white will give you fifty shades of grey
Once you go white and black, you'll never come back
Astor Piazzolla – Escualo (The shark)
Ástor Pantaleón Piazzolla (March 11, 1921 — July 4, 1992) was an Argentine tango composer and bandoneón player. His oeuvre revolutionized the traditional tango into a new style termed nuevo tango, incorporating elements from jazz and classical music.
Watch their TEDxDelft performance on YouTube: Maartje & Kine – Pandasong and Escualo 
John Cohn – The importance of play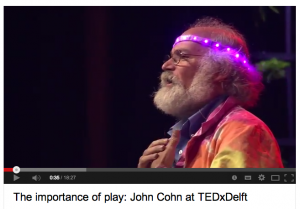 Dr John Cohn (@johncohnvt) is a self-confessed nerd. He already knew he wanted to be an engineer at the age of eight, found himself a nerdy college, a nerdy job and even a nerdy wife, or at least a fellow-engineer. As a nerd he breaks the mould though. Because onstage, with his rainbow-coloured lab coat, his Einstein-inspired hairdo and his party light headband, he is most of all entertaining and fun. That ties in with his motto: keep things playful. Bring a playful spirit into your work.
Watch the TEDxDelft  talk on YouTube: John Cohn – The importance of play