After concluding the ninth lustrum and a year full of great projects – among others the opera of Carmen, the St John Passion and a tour to Paris – the orchestra and choir of music students in Delft, Krashna Musika, starts this fall with an English programme, which contains the 2nd symphony of the British componist Egon Wellesz and the Magnificat from John Rutter.
John Rutter, born in 1945, is a British composer, conductor, editor, arranger and producer. In 2002, Rutter's setting of Psalm 150 was commissioned for the Queen's Golden Jubilee and was performed at the Jubilee thanksgiving service in St Paul's Cathedral, London. He also was commissioned to write a new anthem, This is the day which the Lord hath made, for the Wedding of Prince William and Catherine Middleton in 2011, performed at Westminster Abbey during the service.
Rutter is mainly known for his chiefly choral compositions that include Christmas carols and anthems. His more extended works are a Gloria, a Magnificat and a Requiem.
At TEDxDelft 2013, Krashna Musika will perform two parts of Rutter's Magnificat under the musical direction of the choir conductor Ruben de Grauw.
The Magnificat has been set to music more often than any liturgical text by Palestrina, Monteverdi, Bach and Purcell, just to name a few.
The canticle of the Blessed Virgin Mary (Luke I: 46-55), the Magnificat, by John Rutter "is full of energetic, syncopated rhythms and strong melodies, with more than a hint of the musical theatre" (John Bawden). The premiere of Rutter's Magnificat took place in 1990 at Carnegie Hall in New York under the direction of the composer himself.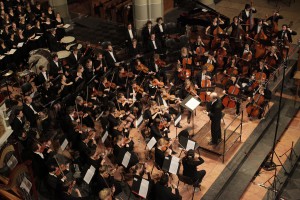 Now we're all looking forward to listening to Rutter's "beautifully written for the voice and superbly orchestrated" (John Bawden) Magnificat, and its this magnificent performance by Krashna Musika at TEDxDelft!
https://www.tedxdelft.nl/wp-content/uploads/2016/02/TEDxDelftLogoWebsite.jpg
0
0
Ute Limacher-Riebold
https://www.tedxdelft.nl/wp-content/uploads/2016/02/TEDxDelftLogoWebsite.jpg
Ute Limacher-Riebold
2013-09-13 15:00:53
2015-08-01 06:10:30
TEDxDelft 2013 | Krashna Musika – Energetic, syncopated rhythms coming right at ya!