With an impressive line-up of speakers and inspiring stories, TEDxDelft 2015 was truly a platform for ideas worth spreading. This year's theme, "Let's Make things Beta", reminded us that every great concept once had a beta-phase – a moment in time when it wasn't perfect. We hope that TEDxDelft continues to inspire you take your ideas forward and to not let the fear of failure or imperfection stand in your way.
If you would like to relive your TEDxDelft 2015 experience or simply want to be (re)inspired by our exceptional speakers and performers, check out their talks below.
After all, a great idea deserves to be shared with the world.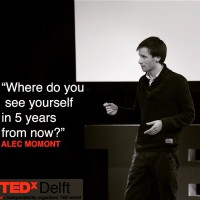 Alec Momont – Using technology for the greater good of mankind
Using technology for the greater good of mankind is what Alec Momont stands by. Having graduated as a product designer from TU Delft, Momont's project became viral across the globe. For his final project, Momont designed a defibrillator-fitted ambulance drone, capable of saving lives. His invention opened a new door in emergency response and succeeded in showing the world his vision of using drones for a valuable purpose. Watch Alec Momont on Youtube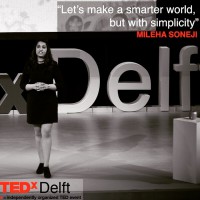 Mileha Soneji – Empathy is the key to great innovation
Mileha decided she wanted to help her uncle. Her goal was not to cure Parkinson's, but instead to make the everyday tasks of those living with Parkinson's much easier.
She first looked at helping her uncle with his tremors and drinking. She designed a no-spill cup to aid in this process. One day, she questioned how her uncle walked up and down the stairs. Surprisingly, he was able to do this without any problem, but as soon as he stopped, he had trouble walking again. Watch Mileha Soneji on YouTube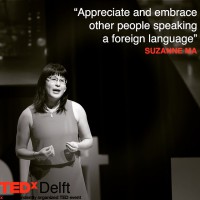 Suzanne Ma – Having empathy for newcomers
"Welcoming newcomers isn't enough. We need to become newcomers ourselves." This is what Suzanne Ma wants to impart. Born and raised in Canada, the Chinese-Canadian journalist recently published a book entitled, "Meet me in Venice", in which she chronicles the life of Chinese 'newcomers' in Europe. Watch Suzanne Ma on YouTube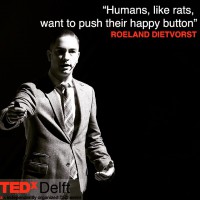 Roeland Dietvorst  – Understanding the inner workings of the brain
It is the reward centre of our brain that rules a lot of our behaviour. "That is an ancient part of our brain if we look at evolution. It competes with the new part to determine behavior, and what happens in that old part of our brain, happens outside of our consciousness." Dietvorst has even more amusing examples. "Would you prefer fifty euros now or eighty euros in three months time?," he asks the audience. Research shows that men shown photos of beautiful women, want instant gratification and would therefore always choose to receive the fifty euros now. It's the ancient brain talking. Watch Roeland Dietvorst on YouTube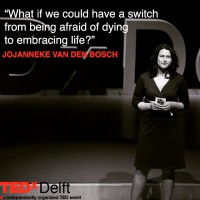 Jojanneke van den Bosch – Helping the invisible
"On Valentines Day, I received my first Valentines Day card. I was 14 years old." It read: "Dear Harry, I really like you. Please do not tell our classmates. P.S. Greetings to your mom." The following day, Jojanneke van den Bosch's mother died of lung cancer. Her father passed away five months before. She and her sister were unable to find a foster family because her sister was 18 years old. Fighting for their home because they were not on the lease, they had to sell nearly all of their belongings. It was as if they were walking a tightrope and hoping to make it to the other side without falling off. Watch Jojanneke van den Bosch on YouTube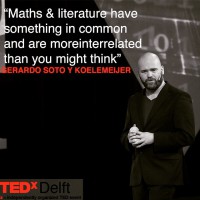 Gerardo Soto y Koelemeijer – Let's change math education
Given the multifaceted person that he is, Gerardo Soto y Koelemeijer sheds light on the complexity that math projects projected to most individuals, including the great mathematicians. He says, "Imaginary numbers are mental tortures. Too many students do not follow math due to its complexity. I like to read math and imagine stories on it. After all, math has been an important element of human culture for thousands of years." Watch Gerardo Soto y Koelmeijer on YouTube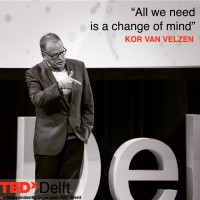 Kor van Velzen – Creativity and change
"When I was a boy, I was sure I wanted to be an actor. And I wanted to be a writer, a painter, or a famous singer, " says Kor van Velzen. But then the Sixties came and along and with it, Saints Paul, John, George, and Ringo. Since his days as a priest, Van Velzen has worn many other hats: artist, advisor and songwriter. What had become clear to Van Velzen, however, was that change was part of him. It was his karma. Whether it was the attitude of people during the Sixties or the birth of his son, change happened and happens all the time. Watch Kor van Velzen on YouTube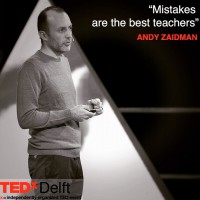 Andy Zaidman – Making testing fun
"My two-year old son is the best tester in the world. He drops stuff on the floor, throws it against the wall and he watches what happens," Andy Zaidman says. Though it might seem like a playful attitude, it is the thought behind it that counts and what he feels has been largely lost nowadays. Watch Andy Zaidman on YouTube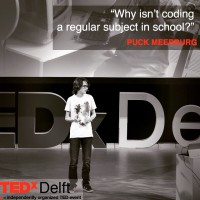 Puck Meerburg – Turning the conventional into state-of-the-art
Meerburg compares learning to programme with learning languages. "First you learn the letters, then the words, and then you can make sentences," he explains. He wonders why coding is not a regular subject in school. "Once you know the basics of programming, you can develop your beta skills." Computational thinking, for example. Watch Puck Meerburg on YouTube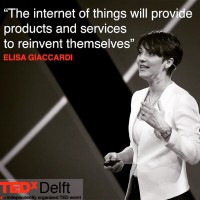 Elisa Giaccardi – A day in the life of things: how listening to things helps us innovate
It was about a year ago, while participating at a workshop that the idea hit. "What if things become part of the design process?" Giaccardi asks. "Can things design things?" Companies add internet connectivity to more and more items, to transmit data and work more efficiently – a development known as the internet of things. Watch Elisa Giaccardi on YouTube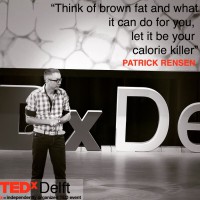 Patrick Rensen – Losing weight the "cool way"
"I want you to understand that it is good to feel chilly," Patrick Rensen says. Though there are different ways to burn calories, Rensen argues there is a fairly straightforward way to achieve this: lower the room temperature. As Professor of Endocrinology at Leiden University Medical Center, he does research on the effects sugar and fat metabolism have on heart disease and diabetes. A recent discovery that brown fat is present in adults as well made Rensen decide to find out more.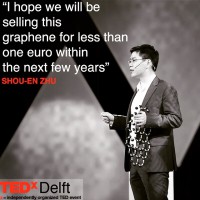 Shou-En Zhu – Getting to grips with graphene
Graphene, a nano-structure, has many different usages. For instance, imagine a world where you would be able to desalinate water with a tool that can fit in your pocket or windows that can produce power because of it's conductivity and clarity. Imagine all electronic devices fully charged in 10 minutes or electronic devices embedded in clothing and electronic chips one thousand times faster than current technology can produce. This is only a part of what graphene is capable of doing. Watch Shou-En Zhu on YouTube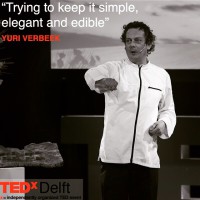 Yuri Verbeek – Finding inspiration in the ordinary
For Yuri Verbeek, head chef and owner of culinary studio De Kokkerie, inspiration for even the most simple dishes can come from everywhere. But is not just the ingredients that can be used in creative ways. Common household items like perfume bottles can be used to hold garnishing or using a watering can to distribute sauce. "By modifying the ingredients and using the imagination, this simple snack can be turned into a dish with added bling," he says. Watch Yuri Verbeek on YouTube (Dutch only)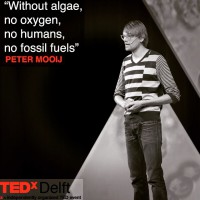 Peter Mooij – The answer might just be algae
"Every breath you take, half the oxygen you exhale was produced by micro algae," say Peter Mooij. He calls them global players, who have been here before all of us and even before the dinosaurs. "And all this time they have been engaging in photosynthesis. In fact, without them, we would not be here. Because alive, they produce oxygen, but dead algae are converted into fossil fuels." Watch Peter Mooij on YouTube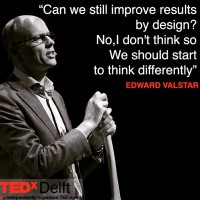 Edward Valstar – Joined at the hip
"Every year, one and a half million people in the world are treated for osteoarthritis with hip prosthesis. Our aim is to make these hip replacements last for a lifetime" says Dr.Edward Valstar. According to the professor, the most important challenge in regard to hip replacement surgeries is that it fails in a few years, due to the formation of a scar tissue around the area where the prosthesis is done. But why does it fail? Watch Edward Valstar on YouTube.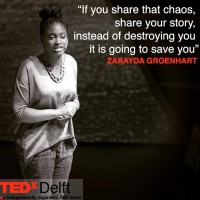 Zarayda Groenthart – The story chooses you
While working on her first novel Het Waarom Meisje (The Why Girl), fear and panic slowly got a grip of Groenhart as she was writing it. She realised the novel was actually her own story and the events it described were very personal, not just to her but to her immediate family as well. While struggling with coming to terms with being a victim of sexual assault, it was her dad that encouraged her and offered her advice to cope with it, which she has since taken to heart. "Surrender to the chaos instead of trying to control it," Groenhart says, "because there might be a story in there that chose you to tell it." Watch Zarayda Groenhart on YouTube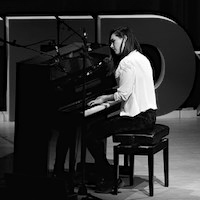 Being born to a musical family, it is no wonder that Hilda Ruijs started playing musical instruments at a young age. Her musical skills range from playing the violin, guitar and piano, to singing classical music and composing her own songs. Today, the BN DeStem Culture Award finalist was invited to showcase her composition during TEDxDelft 2015.
Watch Hilda Ruijs's performance on YouTube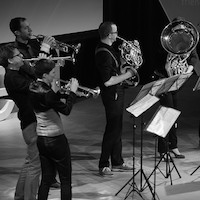 Delft Brass – All about the Brass
Beginning with a few mild notes on the trumpet, musical ensemble Delft Brass swung into higher pitches, creating synergy through brass. The group delivered three entertaining musical pieces based on TEDxDelft 2015′s theme, "Let's make things beta". Showcasing their musical talent and creating harmony through brass instruments, Delft Brass kindled all the zeal and zest through their music. Watch Delft Brass's performance on YouTube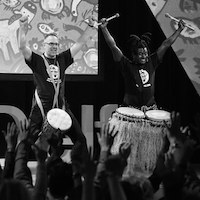 Drum Cafe – Creating synergy through sound
Drum Cafe has been whipping up audiences all over the world since 1996, during conferences, but also at corporate events. According to Drum Cafe, drumming is the most effective team building activity. The group had the audience clapping, drumming, shouting and shaking to their hearts' content. Watch Drum Cafe's performance on YouTube.