TEDxDelft 2015 Entertainment | Hilda Ruijs | Singing her heart out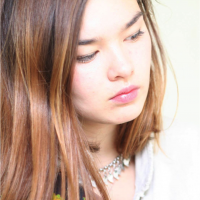 Originally from Breda, Hilda Ruijs is a student at the Delft University of Technology, currently pursuing a degree in Industrial Design Engineering. Her biggest hobby, however, is playing and composing her own music. As a matter of fact, the singer-songwriter was recently selected as a finalist for the BN DeStem Culture Award.
Ruijs started playing the violin when she was only eight years old and soon advanced to writing her own lyrics at age twelve. Moreover, she received a guitar when she was 15 and also started to play the piano. "I always liked creative things such as museums, drawing and of course, music," Ruijs says. "This is also what eventually led me to pursue a degree in Industrial Design Engineering, as the creative part of the curriculum is very important to me."
When asked about how best to balance science and creativity, both in her studies and in her passion for music, Ruiijs has this to say: "Whenever one considers creativity to be important, I believe that you can bring that into everything that you are doing and will actually benefit from it. It is very much about channeling the creativity into different fields."
Currently, Ruijs is in the final year of her Bachelors program and plans to find an internship at a small design firm in the upcoming months. Eventually, she wants to pursue a graduate degree in Industrial Design Engineering or apply to music school to become a professional songwriter.
Her biggest musical inspiration is Canadian songwriter and singer Patrick Watson. "He is a musical genius, because he is not afraid to act or to orchestrate or to just play any kind of music," Ruiijs claims. "His music is always like a story, which is interesting from the beginning to the end." She also likes American singer-songwriter Norah Jones, mostly due to her sultry voice, influenced by jazz music. While she does not have a favorite TED talk, she does watch a lot of TED films. "[It could be] about anything," she says, "but generally a lot of stuff about design, but it could also be related to science."
In the future, Ruijs hopes that her passion for music will not remain to herself, but that she will be able to share it with as many people as possible. Performing at this year's TEDxDelft event, Ruijs will have the opportunity to her showcase her creativity and musical talent with everyone in the audience.
https://www.tedxdelft.nl/wp-content/uploads/2016/02/TEDxDelftLogoWebsite.jpg
0
0
Philipp Banhardt
https://www.tedxdelft.nl/wp-content/uploads/2016/02/TEDxDelftLogoWebsite.jpg
Philipp Banhardt
2015-02-19 12:00:21
2015-08-01 06:35:54
TEDxDelft 2015 Entertainment | Hilda Ruijs | Singing her heart out