The people behind TEDxDelft – Caryn 't Hart de Wijkerslooth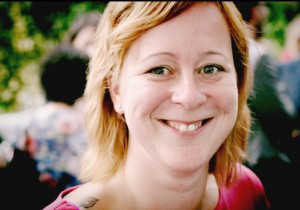 In our series about the people that make TEDxDelft live and kicking this time a story on Caryn 't Hart
de Wijkerslooth, curator.
Can you tell us something about yourself?
My name is Caryn 't Hart de Wijkerslooth. I'm 34 years old and I live in Leiden with my husband Allard. I'm a lecturer of communication at TU Delft's Centre for Languages and Academic Skills. We have special courses in Debating Skills, Academic Writing and Oral Presentations. I help future engineers put their work in words and tell the right story to the world: in writing, debates or presentations. Furthermore: I'm sort of addicted to Pinterest, enjoy spending time in the pub and … I run. I'm training for the 10k in May.
What's your job at TEDxDelft?
In January 2013 I joined the TEDXDELFT-crew ; first as a performer coach, since 2014 I am a curator too. Together with Rob Speekenbrink and Jeroen van Erp I will hopefully construct and design a wonderful program with good speakers for the next TedXDelft. I love to help performers free their stories and coach them in telling their stories in the best way possible.
What's your favorite TED(x)talk?
There are a lot of talks I like, for a lot of different reasons. I like use them in my lectures, sometimes as an example, sometimes as way to start a conversation with my students. I often show them Ionica Smeets' talk; because of the way she grabs the attention of the audience with an anecdote about ice cream. I was very touched by Marc de Hond's talk about the way he was inspired to make the most out of life. And I absolutely LOVE Elisabeth Gilbert's talk, which has turned into a classic by now. She held a very interesting yet inspiring talk about creativity and is chatty and funny at the same time.
What's your idea worth spreading?
I became an orphan just after graduating university and that made me realize there is a lot about life that you can't control. But, you can decide what you do with the time that is given to you. But, as long as you're here: don't complain and whine too much. Let it be or make it happen. You're not a victim; you can choose your friends, your books. Maybe even your thoughts.
Which keywords define you as a person?
A story geek, that's what I am. I love reading stories, hearing stories, writing stories, referring to stories, discovering stories and helping people build up their story. In short: stories make me tick. I'm convinced that people are shaped by stories and – at the same time – shape stories. Stories might be the most important things we have.