The People Behind TEDxDelft | Paul Manuel | Looking to inspire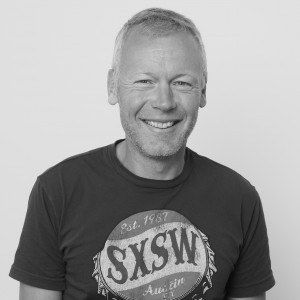 "It's an honor to work for TEDxDelft," says Paul Manuel, Board Member of the TEDxDelft Non-profit Organization. "The most challenging part is to give all the visitors the best experience. We make this happen with a very small budget, but also through a huge amount of effort from the volunteers." As managing partner of leading Dutch digital agency TamTam, Manuel greatly appreciates the value of discovering and learning new things, especially from younger generations. "I am always surprised by the young students on stage," Manuel shares. "I can get completely energized by their stories.  I still use some of them as examples in my business."
When he's not looking to inspire or be inspired by others, the Delft resident spends his time communing with nature, be it biking, sailing, skiing or drinking under the rain, snow and sun. Although he would like to keep the details of the TEDxDelft event under warps, Manuel insists that conference will be well organized. "This is the first time we begin the event in the afternoon," Manuel says. "This will give the event a new dimension. All-in-all, TEDxDelft will give visitors new insights and chance to meet nice people."
What is your role at TEDxDelft?
 TEDxDelft is a foundation with a board. I am in the board with Rob, Peter and Wolter.
 Why did you get involved with the organization?
Because rob asked me and I find it an honor to contribute to such a beautiful event in Delft.
 How long have you been a part of the TEDxDelft Team?
I have been  involved in the foundation's board since the first TEDxDelft.
 If you could choose one person to give a talk at TEDxDelft, who would it be and why?
TEDxDelft is the right place to get surprised by unknown people. Of all speakers, I think the students are most often the most surprising.
 What's your nerdy little secret?
I am founding partner of digital agency Tam Tam, but I have no clue how to get my wifi or whatsoever working properly.
https://www.tedxdelft.nl/wp-content/uploads/2016/02/TEDxDelftLogoWebsite.jpg
0
0
Phillip Gangan
https://www.tedxdelft.nl/wp-content/uploads/2016/02/TEDxDelftLogoWebsite.jpg
Phillip Gangan
2015-01-02 09:00:32
2015-01-10 16:06:27
The People Behind TEDxDelft | Paul Manuel | Looking to inspire