TEDxDelftWomen Speaker 2015 | Dr. Daphne Stam | Observing ourselves to find others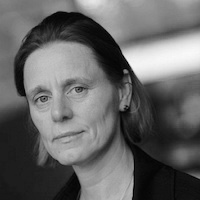 Daphne Stam is planning to take the world's farthest selfie. As a matter of fact, she's prepared to take a few. In her quest to discover Earth-like planets and the existence of extraterrestrial life, the planetary scientist aims to use real-time observations of the Earth to identify what exactly we should be looking for. The idea is to study ourselves in order to find others.
Specializing in polarimetry (the study of the polarization of transverse waves such as radio and light), Stam investigates the atmospheres of planets in our solar system and beyond. After receiving her PhD. in Planetary Sciences at the Vrije Universiteit Amsterdam, Stam was awarded a number of prominent research grants, which allowed her to head planetary research projects in the Netherlands. Currently, she serves as Associate Professor of Planetary Sciences at the TU Delft Faculty of Aerospace Engineering.
According to Stam, the concept behind taking selfies of the Earth originated 25 years ago. Traveling towards the edge of the solar system, the Voyager 1 spacecraft was ordered to take a picture of the Earth. At that distance, 6 billion kilometers away, our planet is reduced to the size of a pale blue dot.
In the coming decade, Stam predicts that sophisticated instruments and telescopes will be designed to make pictures of similar planets. With the help of a computer model she developed with her PhD. student Theodora Karalidi, Stam and her team could identify planets resembling the Earth using a special measurement technique from the miniscule, pale dots on those pictures. To confirm their results, Stam plans to take a picture of the Earth from afar using the very same technique.
At the upcoming TEDxDelftWomen event, the planetary scientist hopes to take the audience to places it has never been before, believing that authenticity is about choosing your own directions. "The pictures of the Earth that we are planning to make support the search for life elsewhere in the universe," Stam explains. "The outcomes of this search have intrigued people across the Earth for centuries. And real-time pictures of the Earth with ourselves in it will undoubtedly be something special."
https://www.tedxdelft.nl/wp-content/uploads/2016/02/TEDxDelftLogoWebsite.jpg
0
0
Phillip Gangan
https://www.tedxdelft.nl/wp-content/uploads/2016/02/TEDxDelftLogoWebsite.jpg
Phillip Gangan
2015-05-18 21:00:13
2015-08-01 06:31:05
TEDxDelftWomen Speaker 2015 | Dr. Daphne Stam | Observing ourselves to find others