TEDxDelftWomen 2015 Speaker | Wioletta Ruszel | Math is one of the only truths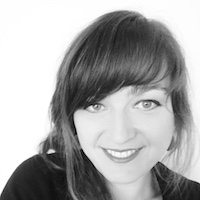 "Mathematics is one of the only truths we have," says Wioletta Ruszel. Ruszel, an assistant professor of applied probability at TU Delft, will take the stage at TEDxDelftWomen later this month to "change the perception of math."
She believes that part of the reason why so many people claim to be bad at math is that it is socially acceptable for them to say that they are. "Similar to any other kind of social conditioning, children learn very early to see math as something difficult and resist it. But, our brain is a logical machine, it is made to understand math. If someone wants to learn the violin or a new language, they have to work hard and practise a lot. Put in the hours and only then will they see the result. It's the same thing with math," she said.
Incidentally, Ruszel can speak six languages fluently: English, Polish, German, French, Italian and Dutch. "My family is Polish and we lived in Berlin. My husband is Italian, so that's why I learnt the language. I've always been fascinated by French history and studied in France for a while. As for Dutch, I'm here now."
Somewhere along this journey, Ruszel studied psychology, neurosciences and became acquainted with philosophy. She saw how Plato and Aristotle used logic to get to the truth. She says she also realised that while certain conclusions can be drawn about human behaviour, there is never an absolute truth or formula for human beings. Given her background in neuroscience, her experience with probability and her fascination with the human condition, Ruszel may consider something multidisciplinary along those lines sometime in the future.
For now she's excited about changing minds via the TEDx platform. "I was very honoured to be contacted. I have many ideas that I'd like to share. It's just 8 minutes but 2000 years of things to say."
Some of her favourite talks explore the question of logic and storytelling.
The Story Chooses You: Zarayda Groenhart
A day in the life of things-How listening to things helps us innovate: Elisa Giaccardi
https://www.tedxdelft.nl/wp-content/uploads/2016/02/TEDxDelftLogoWebsite.jpg
0
0
Damini Purkayastha
https://www.tedxdelft.nl/wp-content/uploads/2016/02/TEDxDelftLogoWebsite.jpg
Damini Purkayastha
2015-05-20 10:00:30
2015-08-01 06:31:29
TEDxDelftWomen 2015 Speaker | Wioletta Ruszel | Math is one of the only truths