The people behind TEDxDelft | Rienske Gielesen | Building relationships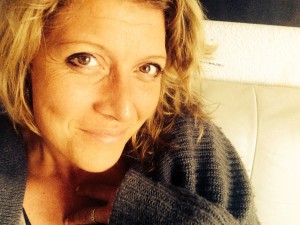 As the TEDxDelft platform grows with more events than ever before, finding and maintaining good relationships with its partners becomes even more important. As Partner Lead, Rienske Gielesen, owner of a communications consultancy, is charged with ensuring that the organisation finds and maintains these relationships.
"TEDxDelft has some great founding partners who have been responsible for the existence of this platform for over five years," Gielesen explains. From the storytelling events to the salons and of course the main event, partners make a valuable contribution. Gielesen's task is to find new partners and maintain the current partners, in order to secure funds and other in-kind benefits. In return she also shows how the partners can gain from TEDxDelft through exposure of their brand. It it this mutually beneficial relationship she is building with current and future partners.
It is the inspiring nature of TED and TEDx talks that convinced Gielesen to become a part of the TEDxDelft organisation. "My drive is to meet people outside of their 'work-comfort zone' and help them connect to it in another way," she explains. The talks are a source of inspiration to her, which show how to make a difference. Leave it to Gielesen then to show TEDxDelft's partners how their contribution will benefit everyone. "It is a privilege to be a part of this."
How long have you been a part of the TEDxDelft team?
Since TEDxDelft Women, May 2015.
Who is your favourite speaker from a previous TEDxDelft conference and why?
Marije Nie's "One Million Steps," a tap dancing adventure at TEDxDelft 2013. I loved her energy and the inspiring thought of being aware of the power of silence and use this to dance and create your next adventures. What she did in Gezi park, next to the Taksim square during the Arab Spring, amazing!
Theoretically if you could choose any one person, historical or ficional, to give a talk at TEDxDelft who would it be and why?
Salvador Dali. I would love to get a glimpse of what was going on in his mind. I guess a TED talk about "creating new reality" would suit him very well.
Are there any hobbies you secretly enjoy outside of work?
My secret is that my work became my hobby. Besides that, I write and draw poems of the soul, for people who dare to meet their own essence. And of course spending family time with my husband and two lovely daughters.
If you could give a TEDx talk, what would you talk about?
Last year, the engine cover opened up while driving on the highway, blocking my view. When I was standing safely on the side of the road, I heard this music on the radio, which I had selected for my funeral. This strange moment reminded me of the fact that life is not a dress rehearsal, there is only the here and now. My talk would be about that: Embrace your doubts, pains and awkward moments, they are just an illusion. If life hurts say "thank you" and after that continue laughing, shining, and dancing your life because that is the only thing that life really is about.
https://www.tedxdelft.nl/wp-content/uploads/2016/02/TEDxDelftLogoWebsite.jpg
0
0
Pierre Mathieu
https://www.tedxdelft.nl/wp-content/uploads/2016/02/TEDxDelftLogoWebsite.jpg
Pierre Mathieu
2015-10-29 14:00:21
2015-10-29 18:42:07
The people behind TEDxDelft | Rienske Gielesen | Building relationships