The People Behind TEDxDelft | Annelies Gras | Ready, willing and able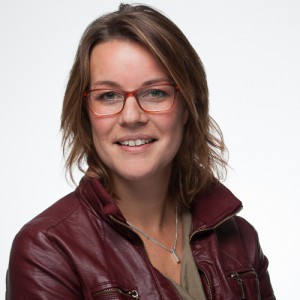 "I'm very excited!" says Annelies Gras, Marketing and Communications Manager for TEDxDelft. As the newest member of the team, Gras is thrilled to be a part of the organization and is eager to get to work. "The people at TEDxDelft are very energetic and enthusiastic, and I felt welcome right away. I started a few weeks ago and I was immediately thrown in the deep-end. That's probably the best way to get involved. Just do it!"
When she's not spreading the word on the upcoming TEDxDelft event or pushing herself to the limit during her weekly boot camp sessions, Gras serves as an independent marketing and communications professional. In 2012, she established her own firm Vers Gras Communicatie and has been working with several businesses and institutions across the Netherlands. Naturally, Gras brings her expertise to the TEDxDelft team, encouraging various organizations and the media to get involved with the event.
"It will be very different to attend TEDxDelft as one of the organizers," Gras shares. "During the past three years, I attended the event as visitor. Now, I expect to see fewer talks. On the other hand, I look forward to enjoying TEDxDelft from behind-the-scenes. This year's line-up of speakers is very interesting, so I think the event will be amazing!"
What is your role at TEDxDelft?
I am responsible for all marketing en communications activities. My focus is mainly on the offline marketing and communications activities, Molly focuses on online communication. I try to generate free publicity and i want to make sure that TEDxDelft is visible in the city of Delft. Molly and i work together to make sure we communicate adequate on all platforms.
Why did you get involved with the organization?
I visited all TEDxDelft events so far and I really enjoy the event and the vibe around it. A few weeks ago Antoinette send me an email to let me know that the TEDxDelft team was looking for a marketing and communications coordinator and i replied immediately.
How long have you been a part of the TEDxDelft team?
A few weeks.
If you could choose one person to give a talk at TEDxDelft, who would it be and why?
I would like to invite Noella de Jager. She's believes in the power of self employed women. Ze has created a work environment where women can outshine and help each other to grow as entrepreneur. She is an expert in creating a meaningfull community.
What's your nerdy little secret?
Recently a bought a record player and i love to be at home and create a nostalgic atmosphere while i listen to old records.
https://www.tedxdelft.nl/wp-content/uploads/2016/02/TEDxDelftLogoWebsite.jpg
0
0
Phillip Gangan
https://www.tedxdelft.nl/wp-content/uploads/2016/02/TEDxDelftLogoWebsite.jpg
Phillip Gangan
2014-11-21 09:00:16
2015-01-10 16:08:32
The People Behind TEDxDelft | Annelies Gras | Ready, willing and able