The People Behind TEDXDelft | Iris Kramer | Spreading Happiness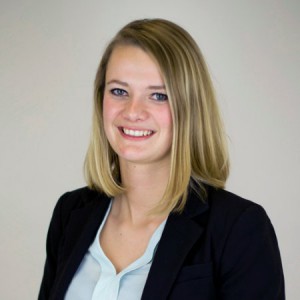 "I only want to see happy faces on the day of the event," says Iris Kramer, Event Production Manager at TEDxDelft. Having studied at TU Delft for the last five years, Kramer has mastered the intricacies of event management as an active member of several student boards and committees. "I love to organize these events. That is why I wanted to get involved with TEDxDelft."
Born and raised in the Northern countryside of Friesland, Kramer moved to Delft to study Architecture and is currently pursuing her Master's degree in Real Estate and Housing. She hopes that her organizational skills and experience will be put to good use during the run-up to the big day.
"Since this is my first year working on the TEDxDelft event, everything is new to me and I need to discover what needs to be done," Kramer shares. "However, everybody at TEDxDelft is motivated and driven, which makes it really rewarding to put a lot of effort into the event!" Indeed, Kramer's ultimate goal is to make this year's theme stand out, not only through the various talks, but also during the TEDxDelft event as a whole.
1. What is your role at TEDxDelft? 
As Event Production Manager, I am responsible for everything that happens outside of the theatre. I fulfill the job together with my co-manager Dominique Riley.
2. Why did you get involved with the organization?
Currently, I am a Master student at the TU Delft. I love studying and everything that comes with it. This leads to an enormous amount of curiosity. TED talks give me a lot of inspiration and drive to work. This is why I wanted to get involved with the organization of the TEDx event in Delft.
3. How long have you been a part of the TEDxDelft team?
Since September, we officially started as Event Production Managers for the 2015 TEDxDelft event.
4. If you could choose one person to give a talk at TEDxDelft, who would it be and why?
This would be someone I do not already know and I have never heard of. I love to watch new talks by persons that are unknown to me but do have an amazing story. By hearing about new things, I get inspired to keep thinking and innovating.
5. What's your nerdy little secret?
I love everything that includes the combination of creativity and technology.
https://www.tedxdelft.nl/wp-content/uploads/2016/02/TEDxDelftLogoWebsite.jpg
0
0
Phillip Gangan
https://www.tedxdelft.nl/wp-content/uploads/2016/02/TEDxDelftLogoWebsite.jpg
Phillip Gangan
2014-11-25 12:10:22
2015-01-10 16:08:24
The People Behind TEDXDelft | Iris Kramer | Spreading Happiness