The People Behind TEDxDelft | Rob Speekenbrink | At the helm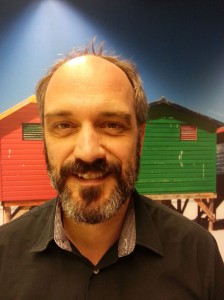 "My job is to curate, motivate and mediate," says Rob Speekenbrink, co-founder and Chairman of TEDxDelft. Since 2010, the long-standing Delft resident and father of two has devoted much of his time and energy to the organization and in making each TEDxDelft event a success. "[Four years ago,] a few colleagues and I decided to strive to get TEDx to Delft," Speekenbrink shares. "I feel it is my job to make sure TEDxDelft is going to be what it can be."
As a user interface designer and online media consultant for TU Delft, Speekenbrink understands how technology, design and creativity actively shape the world we live in. His favorite TEDx talks discuss the way we view education, the future of user interface design and how to follow your passion. That the Internet will replace local politics in 50 years time is a unique idea he believes is worth spreading.
Apart from overseeing the official TEDxDelft brand, Speekenbrink is also involved in the selection of speakers and performers, making sure that each talk is in-line with the event's annual theme. "This year, people can expect a very surprising line-up, with speakers and acts that you normally won't see on a stage," Speekenbrink says.  "They can expect to be amazed and be made to think."
What is your role at TEDxDelft?
I am the licensee of TEDxDelft and therefore responsible for the TEDxDelft brand. This also means I am the contact person for TED in Delft. I'm one of three people responsible for selecting speakers and performers. There are three curators to make sure we pick the right ones.
Why did you get involved with the organization?
I founded TEDxDelft in 2010, together with Simone de Jong, and formed the team that organised the first TEDxDelft in 2011. We decided to start TEDxDelft when we asked each other the question why there was no TEDx  in Delft and could not come up with an answer. By the time we found out what the answer was (it takes a lot of time and energy) we were already halfway to the first TEDxDelft event. We also found out that being involved in a TEDx event gives you lots of energy and positivism and is addictive.
How long have you been a part of the TEDxDelft team?
Since the very beginning.
If you could choose one person to give a talk at TEDxDelft, who would it be and why?
Thom Yorke. I think we all have music that we can link to intense periods in our lives. The voice that comforts me (and still does) is Thom Yorke's. I know it sounds strange to a lot of people but I'm cheered up by the sound of Thom, Radiohead and Atoms for peace.
What's your nerdy little secret?
I like to go geocaching with my family on the weekend, play with raspberry pi computers and will be launching my very own Hyves-like social network soon. I want to experience or use technology before I believe they do what they say it does.
https://www.youtube.com/watch?v=Pm9s50yCO3Q&feature=youtu.be
https://www.tedxdelft.nl/wp-content/uploads/2016/02/TEDxDelftLogoWebsite.jpg
0
0
Phillip Gangan
https://www.tedxdelft.nl/wp-content/uploads/2016/02/TEDxDelftLogoWebsite.jpg
Phillip Gangan
2014-11-14 09:00:35
2015-01-20 11:00:06
The People Behind TEDxDelft | Rob Speekenbrink | At the helm