TEDxDelft 2015 Entertainment | Drum Cafe | Creating synergy through sound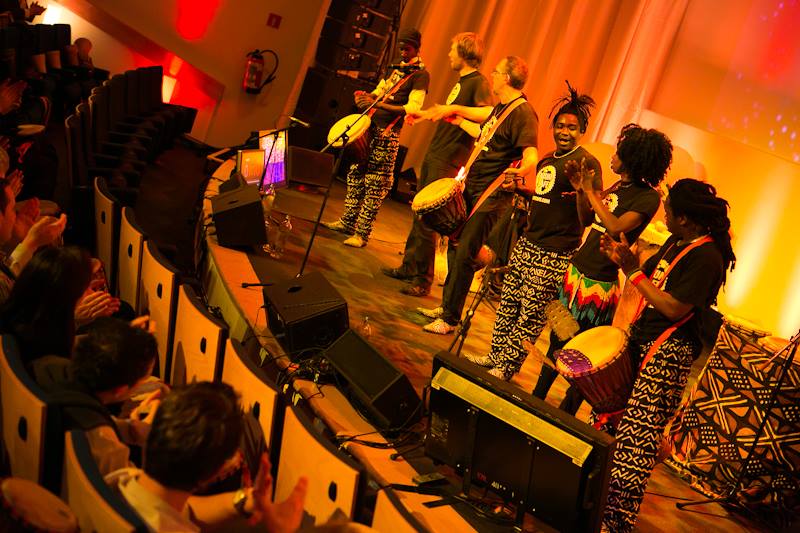 "To give every participant a new form of energy" is Patrick Tromp's exuberant response, when asked what motivates Drum Cafe. Founded in Johannesburg in 1996 by Warren Lieberman, Drum Cafe is one of the world's leading interactive team building, conferencing and corporate events companies. Building teams, one beat at a time – this is what the group aims to achieve during their performance at the upcoming TEDxDelft event.
For hundreds of years, be it in any culture, drumming has proven to be the most effective team building activity. That being said, Drum Cafe is known for incorporating music and rhythm to motivate, inspire and connect people. During every performance, audience members are each given a drum and are made to bring their unique sound into the mix, creating a one-of-a-kind percussion orchestra. The audience's individuality and coordination builds team spirit, motivates team members and brings about a better understanding within the group.
"The humor in our concept and the energy we create through it are our most striking features," says Tromp, head of Drum Cafe Benelux and facilitator for Drum Cafe Europe. The group's unique method is a proven success in more than 50 countries, having presented in over 30,000 events. They help revitalize and refocus participants between presentations and enhance their receptive capacities.
According to Tromp, drumming is an effective ice-breaker, promoting unity with a sense of belonging. In fact, making music as a group sparks creativity, imparts learning and provides insights as to how important it is to collaborate and listen to one another. People's true personalities come out instead of their corporate image. On a lighter note, drumming is infectious and hence, impossible to stay away from.
"The best audience one can get would be that which focuses and laughs a lot," Tromp explains. "We understand how to energize a group of people and know how to connect individuals with each other." Shedding light on how their approach has changed over the years with the varying expectations of the audience, Tromp says, "People are still people, they react the same to the energy we deliver. The only thing is that, with every session, we are getting better!"
Stop thinking and start feeling the rhythm as the drums are all set roll at the upcoming TEDxDelft event on February 27, 2015.
https://www.tedxdelft.nl/wp-content/uploads/2016/02/TEDxDelftLogoWebsite.jpg
0
0
Girish Venkatachalapathy
https://www.tedxdelft.nl/wp-content/uploads/2016/02/TEDxDelftLogoWebsite.jpg
Girish Venkatachalapathy
2015-02-06 09:05:59
2015-08-01 06:36:58
TEDxDelft 2015 Entertainment | Drum Cafe | Creating synergy through sound