The people behind TEDxDelft | Caryn 't Hart de Wijkerslooth | Searching for stories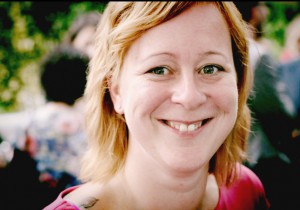 Every year, TEDxDelft features an impressive line-up of speakers and their ideas worth spreading. As one of the curators on the team, Caryn 't Hart de Wijkerslooth is always eager to make each TEDxDelft event extra special in regard to the program's content. "What I find very rewarding is trusting my eye for a good story," she says. Indeed, finding good storytellers does not pose much of a challenge to 't Hart de Wijkerslooth, since she tries to instill this type of skill to her students at TU Delft. "'I teach public speaking, scientific writing and debating skills," she shares. "Basically, I help future engineers tell their story in the best possible way."
According to 't Hart de Wijkerslooth, there is a lot that visitors can look forward at this year's event. "There will be lots of diversity, in a lot of ways," she explains, "diversity in stories, people, ages, subjects." That being said, 't Hart de Wijkerslooth is optimistic that the combination of speakers and their stories will lead to a program that visitors will truly appreciate. "I hope to see people enjoying the program that we arranged for the event," she says.
It goes without saying that 't Hart de Wijkerslooths' enthusiasm for TEDxDelft is clear for all to see. As a matter of fact, she is also helping to organize the first TEDxDelftwomen event, which will take place on May 29, 2015. With such a commitment to TEDxDelft, there is every reason to believe this year's event will be a great success.
What is your role at TEDxDelft?
I'm one of the three curators. The word curator comes from the Latin curare, meaning "take care". So, we take care of the program, basically. I look for possible speakers and performers to be on the TEDxDelft stage. I search , interview, and invite speakers and performers for the lineup, keeping in mind the balance in the program. Together with Rob Speekenbrink and Jeroen van Erp I will hopefully construct and design a wonderful program with good speakers for the next TEDxDelft.
Why did you get involved with the organization?
Because I am a story geek. I love reading stories, hearing stories, writing stories, referring to stories, discovering stories and helping people build up their story. In short, stories make me tick. I'm convinced that people are shaped by stories and at the same time,  shape stories. Stories might be the most important things we have. So, when I discovered TED years ago I immediately thought that it was so awesome. Then I discovered that there were TEDx events in the Netherlands as well. I knew I wanted to contribute straightaway.
How long have you been a part of the TEDxDelft team?
Since January 2013.
If you could choose one person to give a talk at TEDxDelft, who would it be and why?
Annie MG Schmidt. Definitely. It would be awesome to hear her speak about her power to be an original, how to find your spark.
What's your nerdy little secret?
Although I stick to my vegetarian –mostly even vegan- diet, I love a klup burger from time to time at Café van Engelen in Leiden.
https://www.tedxdelft.nl/wp-content/uploads/2016/02/TEDxDelftLogoWebsite.jpg
0
0
Pierre Mathieu
https://www.tedxdelft.nl/wp-content/uploads/2016/02/TEDxDelftLogoWebsite.jpg
Pierre Mathieu
2015-02-06 15:00:51
2015-02-06 15:20:47
The people behind TEDxDelft | Caryn 't Hart de Wijkerslooth | Searching for stories