TEDxDelftWomen 2015 | Entertainment | Isabelle Beernaert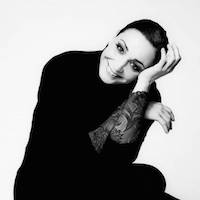 "The theatre is the most magical place on earth. It enables the choreographer to combine choreography, light and stage design to create a story through dance."
This Friday choreographer Isabelle Beernaert, a successful figure on the Benelux dance scene, will be gracing the TEDxDelftWomen stage – or rather several of her dancers will – as part of this year's entertainment program.
Isabelle studied at the Royal Ballet School of Antwerp, and while this gave her a strong foundation in classical dance, many of her performances could be described as modern. Talking about her creative style, however she chooses not to allocate her choreography a label, emphasizing her focus on stories and lived experiences.
She has worked as a choreographer on 'So You Think You Can Dance' NL/BE, and Ukraine as well as producing a number of successful productions, such as 'Ne Me Quitte Pas' and 'Red, Yellow and Blue'.  She is currently working on her 5th full length production 'Under My Skin' which will tour from November and most importantly, she will be presenting a performance at TEDxDelftWomen 2015. Two of her dancers will be performing a duet taken out of a formal production, inspired by the event's theme; authenticity.
When asked about this year's theme Isabelle said "Authenticity is the most important thing in my work, it is what I am always expecting from my dancers and my pieces. 'Authenticity' is being and accepting what you are; thinking, feeling and sharing it with other people."
With her distinctive style and approach to choreography, we are really looking forward to experiencing authenticity from Isabelle Beernaert's perspective at TEDxDelftWomen 2015.
https://www.tedxdelft.nl/wp-content/uploads/2016/02/TEDxDelftLogoWebsite.jpg
0
0
Ailie Conor
https://www.tedxdelft.nl/wp-content/uploads/2016/02/TEDxDelftLogoWebsite.jpg
Ailie Conor
2015-05-27 10:00:02
2015-08-01 06:27:49
TEDxDelftWomen 2015 | Entertainment | Isabelle Beernaert