TEDxDelftWomen 2015 Speaker | Namita Krul | Creating charity-driven business plans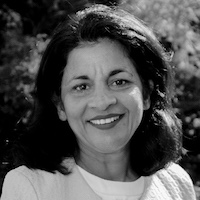 "When you start a business, people will ask about a business plan and how you want to achieve your goals." Non-profit organisations face additional challenges, as their projects impact marginalised people living in difficult conditions. To minimize this, Namita Krul believes it is time charitable organisations start approaching their projects like a business would.
"Take for example the $ 100 laptop project to educate marginalized children, which was a great idea," explains Krul, founder of New Yardsticks, an organisation which aims to change the way the impact of charitable projects are gauged. "Donating a laptop is great but you also need technical support and knowledge sharing when it comes to maintenance or if a laptop breaks down." According to Krul, projects often lack effectiveness because, for these solutions, not enough thought is given to the needs and circumstances of marginalized people who are meant to be the beneficiaries.
Krul argues that a charity-based idea with a business-oriented approach would help set realistic targets that can be achieved by spending more time and effort beforehand, evaluating the project's feasibility. "Approach a project the same way a business would, not with the interest to make money, but to define actually achievable social goals. Business plans that are mission-driven instead of monetary driven."
Indeed, there is a tendency for organizations to plunge into projects without much consideration for the people actually involved. By using these methods, social enterprise projects become more tailor-made for the target groups they hope to assist. This, according to Krul, ties in is well with the theme of "Authenticity", which is all about sincerity and intentions. After all, the main point of mission-driven projects is to properly understand the needs of marginalized people.
At the upcoming TEDxDelftWomen event, Krul views the gathering as opportunity to change this particular mindset. "We all want to do good, to eliminate poverty and for people to have basic needs covered. But we do not want there to be wastage,  and we most certainly don't want to do more harm than good." By taking the best of both worlds –the generosity of social empowerment and the approach of businesses– Krul is convinced these projects will serve to improve many lives.
https://www.tedxdelft.nl/wp-content/uploads/2016/02/TEDxDelftLogoWebsite.jpg
0
0
Pierre Mathieu
https://www.tedxdelft.nl/wp-content/uploads/2016/02/TEDxDelftLogoWebsite.jpg
Pierre Mathieu
2015-05-04 15:00:03
2015-08-01 06:32:07
TEDxDelftWomen 2015 Speaker | Namita Krul | Creating charity-driven business plans