The People of TEDxDelft | Rachel Richardson | Spreading the word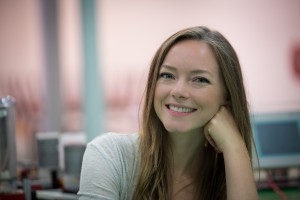 "Engagement coordinator!" is Rachel Richardson's enthusiastic response when asked about her current role for TEDxDelft. "I manage and oversee the communications content for the events." It is a role that suits Richardson, who works as a creative strategist, very well.
"I have been watching TED talks for years now." she says. After moving to Delft, she found out about a local TEDx event and decided to attend. Before she knew it she was asked to join as a volunteer, something she did not have to think long about. "I thought that was even better than just watching it."
And so Richardson moved her way through the organisation, from volunteering to leading the social media and blogging team for the new season. Given her previous roles at TEDxDelft working on social media, as well as her passion for the event, one can count on her to push TEDxDelft communications to the next level.
How long have you been part of the TEDxDelft team?
I signed on in September of 2014. This will be my second event season to participate in.
You operated as the social media manager of the TEDxDelftWomen's conference. Who was your favorite speaker?
That is tough, but, I would say Dr. Wioletta Ruszel because she was so passionate about math and how it is a part of all of our lives. I think math gets a bad rap and I like when it's given positive attention.
Theoretically if you could choose any one person, historical or fictional, to give a talk at TEDxDelft who would it be and why?
I would love to hear Charlie Chaplin speak. I think he would give, not only an informative talk, but I imagine he would mix in a bit of his fumbling charm to make it visually entertaining as well. He was a great activist in his time, and he used his films to convey serious messages that were wrapped inside of a comedic package. I imagine his talk would be really inspiring.
 Are there any hobbies you secretly enjoy outside of work?
I think I am pretty upfront about my hobbies, even at work. I love eating. Probably more than I should admit. I like trying new restaurants and cuisines. Come to think of it, I should probably get some hobbies that don't include food. I love to travel too! Since moving to the Netherlands, I have had the chance to see a lot of wonderful new places that I had not seen before, and eat a lot of delicious food I had not tried before.
If you could give a TEDx talk, what would you talk about?
First, I would have to overcome my stammering fear of speaking to a large group of people. Then I might give a talk on how to overcome your stammering fear of speaking to a large group of people. Or, maybe I would talk about the importance of loving yourself – I do always enjoy the feel-good talks.
A new season means new TEDxDelft events to attend and enjoy. On Thursday 15 October at 20:00 we will kick off the season with a completely new type of event: TEDxDelft stories. The theme for this event will be: Stories from childhood. If this sounds interesting, feel free to come join us. For more details on the event, click here to learn more.
https://www.tedxdelft.nl/wp-content/uploads/2016/02/TEDxDelftLogoWebsite.jpg
0
0
Luiz Sanchez
https://www.tedxdelft.nl/wp-content/uploads/2016/02/TEDxDelftLogoWebsite.jpg
Luiz Sanchez
2015-10-08 14:00:27
2015-10-08 04:35:10
The People of TEDxDelft | Rachel Richardson | Spreading the word