The people behind TEDxDelft | Jonathan Talbott | Ensuring gold standard talks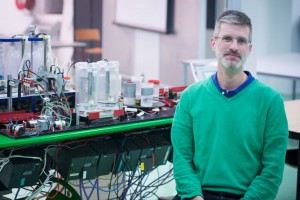 Behind every successful TED talk, there is a coach who makes sure that the speaker is at his or her absolute best on D-day. For TEDxDelft, that person is the Head Coach for speakers Jonathan Talbott. In this role, Talbott, founder of Talbott International Presentations, will be the architect behind many of its mind blowing talks.
Talbott joined the organisation in November 2014 and has since helped prepare many talks for a variety of TEDxDelft events organised during the past year. Given his background, Talbott seems like a good fit for his current role, helping people bring out their message as best as possible. "I want to be sure that, if someone has an idea worth spreading, it gets spread." Talbott explains, when asked how he identifies himself with TED. As the head coach, he organizes his team of ten speaker coaches and together, they support the speakers as they develop, rehearse and intensify their TEDx talks.
It is no surprise then that the reason Talbott got involved with TEDxDelft was the quality of the talks. "TEDx talks are the gold standard for presentations." he explains. It will be up to Talbott and his team to ensure that the speakers for this season's events will make as big an impact as possible on stage. Which is no mean feat, given the limited amount of time the speakers have to present their idea. But with someone who is as engaged with the platform as Talbott is, count on him to uphold those gold standards for yet another season.
How long have you been a part of the TEDxDelft team?
I joined TEDxDelft in November 2014 and have worked with speakers at the 2015 main event, as well as for TEDxDelft Women, and all of last year's Salons.
Who is your favourite speaker from a previous TEDxDelft conference and why?
That's like making me choose between my children! I watched these talks get born, take their first steps and then go out into the world. But I can think of 4 speakers from TEDxDelft stages in the last year, who blew me away with great ideas and gave extraordinary presentations:
Dorothy Grandia (TEDxDelft Women) who went from the personal to the global while convincing us that "we have confident leaders, we need competent ones."
Mileha Soneji (TEDxDelft 2015) who showed us what a "smarter world with simple solutions" could look like.
Sofia Teixeira de Freitas. (TEDxDelft Salon, October 2015) used examples about building better airplanes, but really told us about why changing to sustainable materials is difficult. It was an emotional scientific talk.
Simone Filipini (TEDxDelft Women) started off with "The world's on fire and I'm pissed off!" and went on to encourage us to demand accountability from world leaders. Watch it and you'll be on your feet, rushing to the barricades.
Theoretically if you could choose any one person, historical or fictional, to give a talk at TEDxDelft who would it be and why?
I think that Albus Dumbledore would give a pretty interesting talk about inter-community relations. Cordelia, the youngest daughter of King Lear, would be able to tell us a thing or two about the complexity of human relations, as well.
Are there any hobbies you secretly enjoy outside of work?
Well, there is the great big dome-shaped clay bread oven that I spent the last two summers building in Canada. And the renaissance and baroque violin career.
If you could give a TEDx talk, what would you talk about?
That's a secret!
https://www.tedxdelft.nl/wp-content/uploads/2016/02/TEDxDelftLogoWebsite.jpg
0
0
Parvathy Chandrasekhar
https://www.tedxdelft.nl/wp-content/uploads/2016/02/TEDxDelftLogoWebsite.jpg
Parvathy Chandrasekhar
2015-11-10 14:00:59
2015-11-13 17:22:26
The people behind TEDxDelft | Jonathan Talbott | Ensuring gold standard talks