The people behind TEDxDelft | Sylvia Walsarie Wolff | Providing peace of mind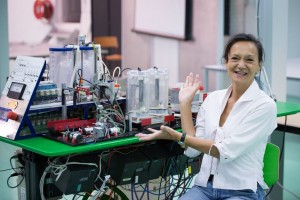 For any TEDxDelft event the speakers are the main component, so ensuring their needs are taken care of is a key priority. This year it falls to our Speaker Liaison, Sylvia Walsarie Wolff, Project Manager Educational and Student Affairs, to ensure the speakers are looked after.
"I take care of all practical and organisational issues the speakers might have," Walsarie explains. Whereas the Speaker Coaches help prepare the talks, they might also have other requests or queries. In these cases Walsarie is there to assist, making sure that the speakers have nothing to worry about and can focus on delivering their talks as best as they can. It is a role she is already very familiar with, having served the same function during the previous event, which she clearly relishes. "[It] is the best job of the team," she says.
Working for TEDxDelft is something that already motivates Walsarie in and of itself. "The people, the atmosphere, doing something completely different, stepping out of my comfort zone," she replies when asked why she joined the organisation. Given the demands of the role, there can be no doubt that the position of Speaker Liaison will be every bit as inspiring to her. With Walsarie looking after the speakers, all they will have to do is focus on giving the talks of their lives.
How long have you been a part of the TEDxDelft team?
I coordinated the entrance & wardrobe volunteers team in 2013, and was asked as Speaker Liaison for the February 2015 event.
Who is your favourite speaker from a previous TEDxDelft conference and why?
I was most surprised by Shou-En Zhu. He fell asleep backstage and I had to wake him up half an hour before his talk. He managed to entertain the audience with 'Getting to grips with graphene.'
Theoretically if you could choose any one person, historical or fictional, to give a talk at TEDxDelft who would it be and why?
Jacqueline Kennedy Onassis, because I think she is a beautiful and strong woman who managed to pick up a life after losing her unfaithful husband in the most horrible way.
Are there any hobbies you secretly enjoy outside of work? 
I dream of having a vintage fashion hangout where I serve jasmine tea and homemade Indonesian snacks.
If you could give a TEDx talk, what would you talk about?
I could never give a TEDx talk.
https://www.tedxdelft.nl/wp-content/uploads/2016/02/TEDxDelftLogoWebsite.jpg
0
0
Pierre Mathieu
https://www.tedxdelft.nl/wp-content/uploads/2016/02/TEDxDelftLogoWebsite.jpg
Pierre Mathieu
2015-11-13 14:00:47
2015-11-13 11:13:23
The people behind TEDxDelft | Sylvia Walsarie Wolff | Providing peace of mind