The People Behind TEDxDelft | Pierre Mathieu | Setting the stage one post at a time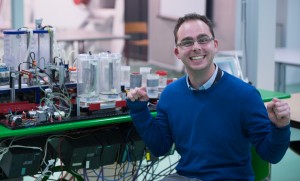 TEDxDelft is more than just a one-day event, with various events taking place throughout the year. The blog is a great place to come and read about what is going on with TEDxDelft. Because this is such an important aspect of the TEDxDelft brand, Pierre Mathieu, Communications Manager for the blog, takes his job very seriously and ensures our audience is always informed.
About this time last year, he started as a blogger with the TEDxDelft team, and now he oversees the entire blog. "The blog's main aims are to create awareness for our events, present the speakers and the TEDxDelft organisation," Mathieu explains. As the blog coordinator, he manages a tight schedule of planning, assigning and even writing the blog posts for the TEDxDelft website. But the work alone isn't what keeps Mathieu so excited about his new role. "The team I worked with was great and the talks were very interesting, so I was eager to continue working with the organisation as a blogger."
Having signed on initially to improve his writing skills, it's safe to say he has definitely done that and more. This blog seamlessly delivers all TEDxDelft news because of the hard work Mathieu puts into it. The 2015-2016 TEDxDelft season will be a busy one, but you can be sure that he will keep the posts coming and the audience continuously informed.
How long have you been a part of the TEDxDelft team?
I started January 2015.
Who is your favourite speaker from a previous TEDxDelft conference and why?
I would have to go with Mileha Soneji, and her talk on how empathy can be the key to innovation. The thing that struck me most about her talk was how a seemingly simple idea could greatly help people with Parkinson's disease in their everyday lives.
Theoretically, if you could choose any one person, historical or fictional, to give a talk at TEDxDelft who would it be and why?
Ayrton Senna, the former Formula 1 driver. Not for his achievements, but for his outlook on life. He had strong convictions, did a lot for impoverished children in Brazil, and would talk about racing as a means to learn more about himself. I think he would have some very interesting insights.
Are there any hobbies you secretly enjoy outside of work?
I like to write fiction, to create new worlds filled with interesting characters and stories.
If you could give a TEDx talk, what would you talk about?
I have no idea.
https://www.tedxdelft.nl/wp-content/uploads/2016/02/TEDxDelftLogoWebsite.jpg
0
0
Rachel Richardson
https://www.tedxdelft.nl/wp-content/uploads/2016/02/TEDxDelftLogoWebsite.jpg
Rachel Richardson
2015-11-24 10:00:18
2015-11-29 23:06:09
The People Behind TEDxDelft | Pierre Mathieu | Setting the stage one post at a time