The people behind TEDxDelft | Anika Duut van Goor | Organizing beyond the talks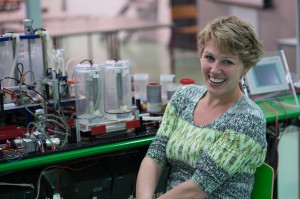 Every event has to be carefully planned and executed to make it a success and keep up the standard that TEDxDelft stands for. Especially with the introduction of the cinema and storytelling events. Fortunately our Events coordinator Anika Duut van Goor, study advisor, is more than capable of ensuring the smooth operation of these events.
TEDxDelft has more on its plate than just the traditional TEDx talks, ranging from the new storytelling and cinema to salon events. Given the variety, good organization becomes key. Duut van Goor coordinates the storytelling and cinema events, juggling multiple projects at the same time. She joined the TEDxDelft team a few months back, and her excellent communication and planning skills are an asset to her role, ensuring the events proceed smoothly. Her previous experience as coordinator in other organizations has prepared her well to take on all the challenges that TEDxDelft has to offer.
Duut van Goor feels strongly about the TEDx goal of spreading worthwhile ideas. Indeed when asked to join the TEDxDelft team, it did not take long for her to reply. "What motivates me to work [for TEDxDelft] are the wonderful people and the importance of sharing and communicating," she explained. Though the demands of organizing the various events differ, Duut van Goor has the flair for turning the storytelling and cinema events into hugely successful TEDxDelft endeavours.
How long have you been a part of the TEDxDelft team?
For about four months now.
Who is your favorite speaker from a previous TEDxDelft conference and why?
That is actually a very recent one! Sarah Kay. She was delightful and moving at the same time. Nothing fake, simply dreaming within reality, speaking out what most of us cannot (especially not in the poetic way she does). I seriously want to be her best friend!
Theoretically if you could choose any one person, historical or fictional, to give a talk at TEDxDelft who would it be and why?
Originally I was going to mention Tesla or something. But now I want to hear that 18 year old girl, Hanna, who told off her father over WhatsApp about the Paris attacks and caring for everyone. If only people like her were world leaders.
Are there any hobbies you secretly enjoy outside of work?
Well, I am really not that secretive. I very openly like to sing, tap dance, act, do puzzles, play The Sims, play tennis, play piano, watch romantic comedies or dystopian movies, and listen constantly to 90s boy bands. I do tend to keep it a secret what I love most about my work … recording data in SPSS … there, I said it!
If you could give a TEDx talk, what would you talk about?
Right now I would talk about the pressure on achievements and performance in society, and how it distracts you from actually living. If I may quote my friend Rachel on this: "We are human beings, not human doings."
https://www.tedxdelft.nl/wp-content/uploads/2016/02/TEDxDelftLogoWebsite.jpg
0
0
Parvathy Chandrasekhar
https://www.tedxdelft.nl/wp-content/uploads/2016/02/TEDxDelftLogoWebsite.jpg
Parvathy Chandrasekhar
2015-12-03 14:00:15
2015-12-03 10:29:52
The people behind TEDxDelft | Anika Duut van Goor | Organizing beyond the talks