TEDxDelft team – Rob Speekenbrink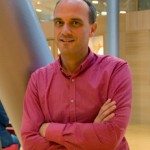 Can you tell us something about yourself?
My name is Rob Speekenbrink (@RobSpeekenbrink) and I'm 40 years old. I have a girlfriend and two kids. I've lived in Delft since 1991 when I started studying here. After graduating as an Industrial designer at Haagse hogeschool I started working as a user interface designer in the internet business. I've worked for several (internet) design bureaus before starting at Delft University of Technology as the  teammanager www.tudelft.nl. Currently I'm consultant Online Media for TU Delft.
What's your job at TEDxDelft?
In the summer of 2010, my and a few colleagues decided to strive to get TEDx to Delft. In december 2010 I obtained the license from TED for TEDxDelft. My job is to curate, motivate and mediate. I feel it is my job to make sure TEDxDelft is going to be what it can be.
What's your favorite TED(x)talk?
I have several favorite talks. The ones that concern the way we think about education are number one, especially done by sir Ken Robinson. Also the one by John Underkoffler about the future of user interface design is great. By the way, I'm a real fan of Gary Vaynerchuk.
What's your idea worth spreading?
I think internet will replace local politics in 50 years time. People and natural organisations will take over. There will be some sort of global president with a ceremonial and diplomatically jobs
Which keywords define you as a person?
Optimist, people-person, thinker, idealistic
https://www.tedxdelft.nl/wp-content/uploads/2016/02/TEDxDelftLogoWebsite.jpg
0
0
Rob Speekenbrink
https://www.tedxdelft.nl/wp-content/uploads/2016/02/TEDxDelftLogoWebsite.jpg
Rob Speekenbrink
2011-03-07 18:26:27
2015-08-01 04:35:48
TEDxDelft team – Rob Speekenbrink