TEDxDelft 2011 Speaker | Erik Meijer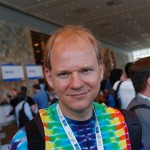 Erik Meijer (born 18 April 1963, Curacao) is a Dutch computer scientist who is currently a software architect for Microsoft SQL Server, Visual Studio and the NET Framework. At Microsoft he heads the Cloud Programmability Team. Erik previously worked within Microsoft Research. Before that, he was a teacher at Utrecht University. He received his Ph.D. from Nijmegen University in 1992. Erik did his first (18 minutes) speech as a professor in the Netherlands on 7 November 2011, during TEDxDelft
Meijer's research has included the areas of functional programming (particularly Haskell) compiler implementation, parsing, programming language design, XML, and foreign function interfaces.
His work at Microsoft includes LINQ, Volta, and the Reactive programming framework Rx (Reactive Extensions) for .NET. He has owner of 68 software patent applications. Erik Meijer is considered to be one of the best software programmers in the world.
In 2009, he was the recipient of the Microsoft Outstanding Technical Leadership Award. Meijer lived in the Netherlands Antilles until the age 14 when his father retired from his current job and the family moved back to the Netherlands.
TU Delft appointed him as the first cloud programming professor as of October 1, 2011. His research will touch the field of cloud computing.
https://www.tedxdelft.nl/wp-content/uploads/2016/02/TEDxDelftLogoWebsite.jpg
0
0
Rob Speekenbrink
https://www.tedxdelft.nl/wp-content/uploads/2016/02/TEDxDelftLogoWebsite.jpg
Rob Speekenbrink
2011-12-12 10:30:55
2015-08-01 04:47:15
TEDxDelft 2011 Speaker | Erik Meijer