TEDxDelft Salon 2012 | Hildo Bijl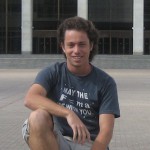 Hildo Bijl is currently graduating from his Master's in Aerospace Engineering at the Delft University of Technology. Throughout his studies, he has been very involved in education: as instructor/teacher, as faculty student council member and as founder of the Aerostudents.com student community. In his talk, he will discuss his quest to improve education.
People are dropping out of our current educational system on a regular basis, but is this a matter of intelligence, or is our system just not suitable for these students? And if so, can we change this using current-day technologies? By cleverly designing an educational program, a learning revolution can be created. High quality education suitable for everyone will spread throughout the world. It starts right here.
Hildo Bijl will speak at the TEDxDelftSalon on 28 March 2012. Please RSVP on our facebook page.
https://www.tedxdelft.nl/wp-content/uploads/2016/02/TEDxDelftLogoWebsite.jpg
0
0
Rob Speekenbrink
https://www.tedxdelft.nl/wp-content/uploads/2016/02/TEDxDelftLogoWebsite.jpg
Rob Speekenbrink
2012-03-06 08:39:19
2015-08-01 04:51:42
TEDxDelft Salon 2012 | Hildo Bijl