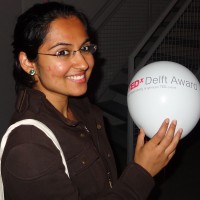 Nupur Kohli (@NupurKohliNL) won the TEDxDelft Award 2012 at 23 years. Inspired by children she saw in different situations, she will share her experiences on stage. Let her surprise you at TEDxDelft 2012!
Fascinated by the human body and how it works, she obtained Masters degree in Medicine from Academic Medical Center, University of Amsterdam, together with studying Medical Entrepreneurship at University of Utrecht. Currently she is a Medical Intern. Her scientific research article on the mental and physical health of Surinamese in the Netherlands is published in the Journal of Hypertension, official journal International Society of Hypertension. She is former Vice President and Secretary, International Federation of Medical Students' Associations (IFMSA-UvA).
Her other activities include: Official trainer on Communication, Strategic Planning, Intercultural differences and officer on Research Exchange for medical academic students at IFMSA-UvA. Organizing committee member, Prague, Czech Republic: Anti-Tobacco HELLP Campaign, an initiative of the European Union. Participation medical strategies and management in the Netherlands at McKinsey Healthcare Business, public health study at London School of Hygiene and Tropical Medicine, discussion group about recent plans for reforms in the British healthcare system. In India she participated in Cardiology, Minimal Access Surgery, Urology and Gynaecology in reputed hospitals and is active in international seminars and media interaction on youth related overseas Indian issues.
Furthermore she has a love for playing flute and singing with concert performance, playing tennis, swimming and hockey. She maintains active contact and exchange of thoughts with people from different countries and cultures. She has travelled extensively to USA, Canada, Europe and India.
https://www.tedxdelft.nl/wp-content/uploads/2016/02/TEDxDelftLogoWebsite.jpg
0
0
Rob Speekenbrink
https://www.tedxdelft.nl/wp-content/uploads/2016/02/TEDxDelftLogoWebsite.jpg
Rob Speekenbrink
2012-09-24 12:20:25
2015-08-01 05:11:31
TEDxDelft 2012 | Performer: Nupur Kohli – Life lessons from our children!