TEDxDelft Salon 2012: 50 Shades of Concrete by Eva Lantsoght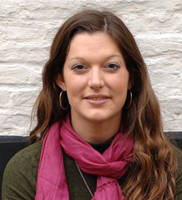 Wednesday 17 October, Eva Lantsoght talked about fifty shades of concrete at TEDxDelftSalon.
Well-designed structures interact with their surroundings: they can enter into a dialogue with the natural light, stand out as a landmark and shape the landscape or become part of it. As for concrete structures, we typically associate these with grey buildings from the second half of the 20th century, or the monotonous bridges in the highway network — concrete offered a cheap solution for the housing and transportation needs of the increasing population.
However, concrete has much more to offer. By changing the ingredients for making concrete, a multitude of possibilities for the designer are created. By improving the original components, the environmental impact of building with concrete can be reduced. Because concrete is fluid upon mixing, creating patterns and shapes is a possibility — you can even create a façade with pictures that will transform your view of concrete!
Eva Lantsoght is a PhD Candidate in Civil Engineering, studying shear in reinforced concrete slab bridges by carrying out experiments on large concrete specimens.
https://www.tedxdelft.nl/wp-content/uploads/2016/02/TEDxDelftLogoWebsite.jpg
0
0
Rob Speekenbrink
https://www.tedxdelft.nl/wp-content/uploads/2016/02/TEDxDelftLogoWebsite.jpg
Rob Speekenbrink
2012-10-23 14:09:43
2015-08-01 05:54:45
TEDxDelft Salon 2012: 50 Shades of Concrete by Eva Lantsoght