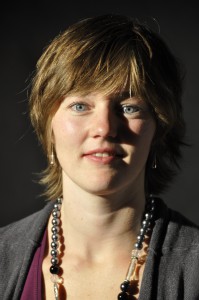 TEDxDelft volunteer: Brenda Hooiveld
With hundreds of volunteers on board, one position that TEDxDelft needed to fill with just the right candidate was that of the Volunteer Coordinator.
Luckily, an excellent 'people person' was just at hand: Brenda Hooiveld, who has been with TU Delft for 5 years and works in Communications for the Education and Student Affairs department. She took on the daunting task without hesitation.
"They needed someone who could work with people from all across the board and I like working with people, so I thought why not?" says Brenda. Having worked as a volunteer with TEDxDelft in previous editions, she had some idea what to expect. "I really enjoy getting other people equally enthusiastic about the event. It's a really great concept and I love creating a sense of exciting around it."
Of special interest to Hooiveld is the topic for this year: Do Try This At Home. "I am a practical person, so I really enjoy learning about things I can try myself. The talks are about more than technology and encourage you to broaden your mind in a fun way. I have always been really inspired by TED talks and I am sure I will find these inspiring too."
What are your favorite TED(x)Talks? 
Benjamin Zander as Brenda is a very musical lady as well, playing the Tuba.
And TEDxDelft Pim van den Akker  because she loves floral art.
Being a sociologist she loves the TED Talk of Sam Richards about empathy. She believes that empathy is the core of society.
And, lastly she like this short movie a lot so we did not want to miss out this one.
What's your idea worth sharing?
Music makes mankind!
https://www.tedxdelft.nl/wp-content/uploads/2016/02/TEDxDelftLogoWebsite.jpg
0
0
Damini Purkayastha
https://www.tedxdelft.nl/wp-content/uploads/2016/02/TEDxDelftLogoWebsite.jpg
Damini Purkayastha
2013-09-06 16:00:26
2015-08-01 06:09:07
TEDxDelft 2013 | The people behind TEDxDelft - Brenda Hooiveld - Spreading the excitement!