TEDxDelft 2013 | Even More To See And Do At TEDxDelft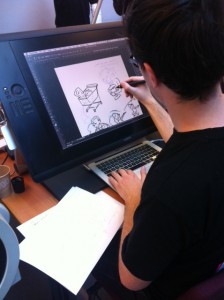 Jongens van de Tekeningen ('Boys from the Drawings' in Dutch)
Besides all the TEDxDelft talks being available on our Youtube channel, and all the photo's that were made during the day, there's one other thing to remember this year's event by. And that is a huge, huge drawing, made by the Jongens van de Tekeningen. Combining digital and regular drawing with pencils and markers, they create a visualisation of all the speakers, performers and everything else that's happening today. When this post went online, the drawing was — meter, and they still had to go — hours! They're here all day, so if you want to know how they make the drawing and how long it is now, visit them on the top floor.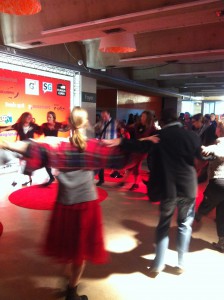 Marije Nie
Enjoyed her talk so much and now you want to dance too? Well, that was possible in the last break in the foyer. In cooperation with Barbara you could join her and other attendees in a kind of folk like dance! Who said TEDx is only about watching talks? This is a good example of taking the talk out of the auditorium, to home.
3d print fotografie Tim Zaman
Do you also have the urge to touch a painting in a museum, or is that just me? Either way, at TEDxDelft you can touch a Rembrandt or Van Gogh. Well, not the real ones, of course, but a 3D printed version. You read that right, a 3D printed painting. Tim Zaman designed and created a photographic scanner which captures 3D images of Dutch master paintings. The scanner looks at the material of the painting and how it's made and then it gets scanned, top to bottom. He has brought two 3D Rembrandts and one Van Gogh with him, and you can touch them inf the foyer. Now I've never touched a real painting before, but I did touch the 3D version and it really feels like how I imagine a painting to feel like. Does that makes sense?
https://www.tedxdelft.nl/wp-content/uploads/2016/02/TEDxDelftLogoWebsite.jpg
0
0
MandyJansen
https://www.tedxdelft.nl/wp-content/uploads/2016/02/TEDxDelftLogoWebsite.jpg
MandyJansen
2013-10-04 17:07:42
2015-08-01 06:19:18
TEDxDelft 2013 | Even More To See And Do At TEDxDelft