TEDxDelft 2013 | Krashna Musika- listening to music is better than talking about music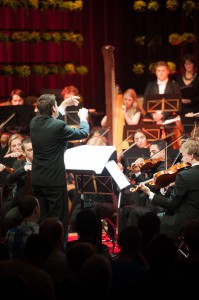 With 80 people on the stage, "Krashna Musika", the orchestra and choir of the music students of in Delft, has set a record. They all got on stage to perform "Magnificat" by British composer John Rutter under conductor Ruben de Grauw.
By listening to Krashna Musika you can understand why orchestras and choirs are often used as an example for team work: all the voices and instruments worked perfectly together in order to create a musical piece which often changed in tempo and loudness and alternated between the high and low voices, and yet created something that was whole.
Krasna Musika performed two parts of Rutter's "Magnificat", a text that has been put to music more times than any other liturgical texts, for example by among others, Palestrina, Monteverdi, Bach and Purcell. "Magnificat" is also one of Rutter's more elaborated work- other examples of his pieces include Christmas carols and anthems. "Magnificat" premiered in 1990, and was conducted by Rutter himself.
I must admit that the syncopated and ever-changing rhythm of Rutter's more contemporary version of the "Magnificat" gave me the goose bumps, and judging from the audience's enthusiastic response, they must have felt the same way.
Krashna Musika performed beautifully, and I was very happy to be able to listen to them. It was a real feast for the ears!
https://www.tedxdelft.nl/wp-content/uploads/2016/02/TEDxDelftLogoWebsite.jpg
0
0
Olga Mecking
https://www.tedxdelft.nl/wp-content/uploads/2016/02/TEDxDelftLogoWebsite.jpg
Olga Mecking
2013-10-04 17:30:36
2015-08-01 06:19:26
TEDxDelft 2013 | Krashna Musika- listening to music is better than talking about music