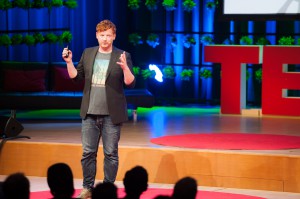 Japie Stoppelenburg, conceptor, copywriter, designer, researcher, director, singer, dancer and actor – often for clients and mostly for fun, gave a dazzling speech today about the resemblances between Facebook and a schoolyard.
From a marketer's point of view, you probably dream about how Facebook leads to golden mountains, high end-user engagement and long-term customer loyalty, and you probably spend a good deal of your day working towards these goals.
Then how comes that you still can't get there?
When it comes to marketing your brand on Facebook, Japie states that most of the brands don't quite get what they are working on, and mostly; they are doing it wrong!
Japie puts his money where his mouth is, explaining to us that Facebook is nothing more then a schoolyard, where the same rules and social structures apply.
On Facebook, small mistakes can lead to big scandals, there is an obvious gap between your high school life and the life you live in the safety of your home, and mom still comments on your posts from time to time; embarrassing you in front of all your friends.
So how do you need to position yourself in order to get more popular? Giving brilliant examples from the field, Japie explains how to break your brand down to the very essence of it's being: Heineken is beer, AT&T provides, and so on. From there it's all about working what you have and displaying what works for you. So if you are the chubby kid in the schoolyard, don't brag about your "player-ways", but woo them with your sense of humor.
Last but not least, Japie ends with some good advice we can all take home:
1. Don't talk about your own product all the time. (So don't brag!)
2. If you can't obey the rules, don't come and play. (Be home schooled!)
To learn more about Japie Stoppelenburg, visit his website.
https://www.tedxdelft.nl/wp-content/uploads/2016/02/TEDxDelftLogoWebsite.jpg
0
0
Michelle van Duijn
https://www.tedxdelft.nl/wp-content/uploads/2016/02/TEDxDelftLogoWebsite.jpg
Michelle van Duijn
2013-10-04 18:00:18
2015-08-01 06:19:46
TEDxDelft 2013 | Japie Stoppelenburg – Is your brand the chubby kid in the schoolyard?