TEDxDelft 2013 | Rolf Hut – A Man With Ideas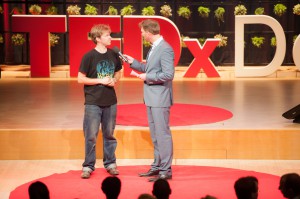 Despite finishing his PhD just a few days ago, Rolf Hut has been an active member of the TEDxDelft team also this year. Last year, besides being responsible for the Scrap Heap Challenge, he had his own talk. Now he is on stage again, this time for a short interview.
Rolf is the guy with ideas, and it was indeed his idea to do a Tram Car Race for this years TEDxDelft edition. Besides helping the other participating team, he is building his own tram car, just outside the Aula where the talks are being held.
Sipke Jan managed to drag Rolf from his tram car building, his hands still covered with grease, for a short interview regarding the tram car race:
"Homemade tram car devices are being prepared right outside. Two cars are manual and two are electrical/diesel powered. It's going to be a lot of fun!"
The race will be performed straight after lunch, at 2:00 pm. Despite Rolfs T-shirt "We're all a bit mad" let us hope for a safe and fun race. See you there!
https://www.tedxdelft.nl/wp-content/uploads/2016/02/TEDxDelftLogoWebsite.jpg
0
0
Ulf Winberg
https://www.tedxdelft.nl/wp-content/uploads/2016/02/TEDxDelftLogoWebsite.jpg
Ulf Winberg
2013-10-04 13:00:56
2015-08-01 06:17:32
TEDxDelft 2013 | Rolf Hut – A Man With Ideas