The People Behind TEDxDelft | Dominique van Werkhoven | Making Memories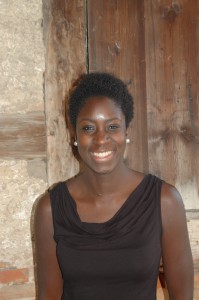 "It's great to think of ways to ensure that TEDxDelft visitors have a memorable and inspiring time," says Dominique van Werkhoeven, Event Production Manager at TEDxDelft. "I've always enjoyed organizing events, whether it's dinner with friends or international business conferences in different countries across the world!" Prior to moving to Delft in 2012, the London native and Oxford University graduate spent a considerable amount of time in France, working with and on behalf of young people. "I'm passionate about people, especially the youth," Werkhoeven shares. " They have so much energy and creativity."
Whether she's making visitors feel welcome during the TEDxDelft event or organizing community activities with her local Christian group, Werkhoeven definitely enjoys being involved. "I look forward to people arriving and feeling very curious about what the TEDxDelft event will hold for them and then seeing them leave, having felt well looked after and with new ways of seeing things around them," she says. "I also look forward to working with the different volunteers who join us to make the day possible!"
Can you tell us something about yourself?
My name is Dominique, I'm from London and moved to the Netherlands in 2012 when I got married to my gorgeous Dutch husband. I really enjoy living and working in international and multi-cultural situations – so Delft is a great place to be for that! After graduating from Oxford University in UK with a law degree, I did something very different and got involved with event planning, organising and delivering. Then I discovered just how much I enjoyed it and have done it ever since!
What's your job at TEDxDelft?
My job, together with Iris, is Event Production. That means supporting the TEDx event by making sure that guests feel welcome and can enjoy the most out of the whole TEDx experience,  even when in the main auditorium listening to the inspiring talks!
What's your favourite TED(x)talk?
I really enjoy Sir  Ken Robinson's talk on how schools can kill creativity – what a challenge to rethink the education systems around the world. And I really like the Kid President videos that are on the TED website – fun, inspirational and cute!
Which keywords define you as a person?
People-person, spontaneous, loyal,  Lion King-enthusiast! If we spend some time talking, I will probably ask you "What's your story?" because I really enjoy hearing individual stories. I find it fascinating! And I like words and using them well to create stories!
https://www.tedxdelft.nl/wp-content/uploads/2016/02/TEDxDelftLogoWebsite.jpg
0
0
Phillip Gangan
https://www.tedxdelft.nl/wp-content/uploads/2016/02/TEDxDelftLogoWebsite.jpg
Phillip Gangan
2014-12-12 09:00:53
2015-01-10 16:07:46
The People Behind TEDxDelft | Dominique van Werkhoven | Making Memories