The People Behind TEDxDelft | Toine Andernach | Preparing for the Best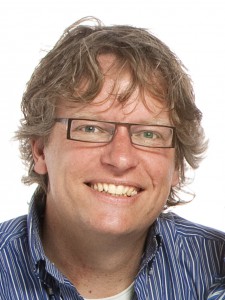 "The most challenging part of my job is to help the TEDxDelft speakers prepare for the best performance they will ever deliver," says Toine Andernach, Coordinator of the Performer Coaching Team at TEDxDelft. "This year, you will be surprised, confronted, provoked and entertained more than ever before!" Together with a dedicated team of coaches, the head of TU Delft's FOCUS Centre of Expertise on Education lends his support to the TEDxDelft performers to help them deliver powerful and captivating presentations. "I am looking forward to seeing the whole picture on the day of the event," Andernach shares, "the nicely decorated stage, performers at their best and an audience ready to be inspired."
In order to bring the various talks to life, storytelling, theater techniques, stage direction and English language feedback are among the creative tools employed by the Performer Coaching Team. Nevertheless, the longstanding Den Hoorn resident and proud father of twins insists that silence plays an integral role in enhancing the theatrical effect of the presentations. "I am convinced that the quality of performances would drastically increase when performers use silence more intentionally," Andernach says. Indeed, this enables the speakers to deliver spectacular performances that the audience will never forget.
What is your role at TEDxDelft?
At TEDxDelft, I'm responsible for coordinating the Performer Coaching Team. With a team of about ten coaches, we help our performers to prepare and deliver the performance of their life.
Why did you get involved with the organization?
I got involved with the TEDxDelft organization because I felt I could contribute to optimize the quality of our performers. I told Rob Speekenbrink and he asked me to join the team. And I love the TEDx concept!
How long have you been a part of the TEDxDelft Team?
I have been part of TEDxDelft since the very beginning in 2011, when we already started coaching performers.
If you could choose one person to give a talk at TEDxDelft, who would it be and why?
I would like director and (documentary) film maker Michiel van Erp to give a talk at TEDxDelft because of his original and subtle way of looking at both ordinary and special people and showing how they behave.
What's your nerdy little secret?
My nerdy little secret is that I propagate the use of silence in presentations while I often cannot stop talking myself.
https://www.tedxdelft.nl/wp-content/uploads/2016/02/TEDxDelftLogoWebsite.jpg
0
0
Phillip Gangan
https://www.tedxdelft.nl/wp-content/uploads/2016/02/TEDxDelftLogoWebsite.jpg
Phillip Gangan
2014-12-19 09:20:56
2015-01-10 16:07:35
The People Behind TEDxDelft | Toine Andernach | Preparing for the Best