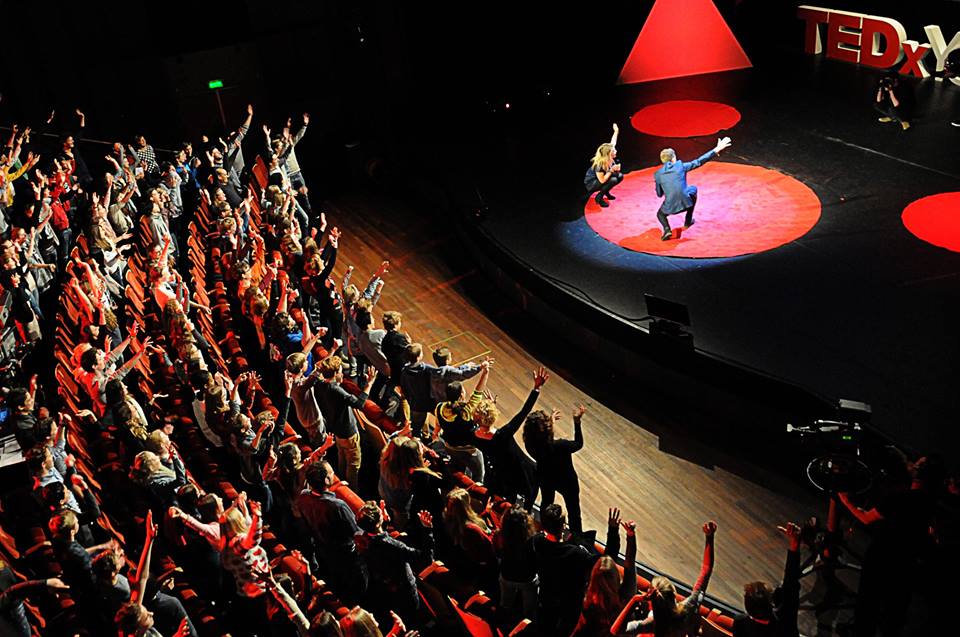 A three hundred-large audience gathered for the third TEDxYouthDelft at Theater De Veste on January 27, 2015. It was a day filled with music, ballet, cabaret and TED films, featuring talks from eleven speakers ranging in age between 13 and 30. Here's a recap of their stories:
Data journalist Winny De Jong works for OneWorld, which, according to her, is the best magazine in the Netherlands. "Do you speak data yet?" she asks the audience. "In tomorrow's world that will be just as important as speaking English. In 2012, IBM calculated that 2.5 trillion bytes of data are generated each day; that is 2.5 with seventeen zeros!" So how do you separate the treasures from the trash? By being critical of all you see and hear. "Awesome people make mistakes too," says Winny. "Think on top of the box, inside the box, or even underneath it, as long as you keep thinking."
Casper Wolf is a talented freestyle snowboarder. At thirteen, he dreams of winning a medal at the 2022 Olympics. As a member of the Dutch Rookie team, he gets time off from school to take part in matches. "I don't have a lot of time for my friends, but they understand that I need to train a lot to become a professional snowboarder," says Casper. Last week, he came fifth at the World Rookie Fest in Livigno, Italy and he often goes abroad for weeks to train. "It's pretty intense. You make long days on the mountain, with a lot of waiting […] But here in the Netherlands I can train indoors every day in Zoetermeer. That's pretty cool, too."
Dolf Grande used to throw out food that was passed its sell-by date. But at 26, he now has a passion for food. After studying logistics in Sweden, he travelled to South Africa where he was shocked by the contrast between rich and poor neighborhoods. "A third of the world's food production is thrown away. That amounts to some 150 kilos per person, per year." According to Dolf, we could feed all the hungry in the world four times over with that. He set up www.neattoeat.nl, an internet food exchange where supermarkets can offer their leftovers to restaurants.
Marjan van Aubel is a Dutch designer who likes to work on the interface of design and science. She noticed that green energy solutions are often designed from an efficiency point of view, without thinking of the user or aesthetics. "What if everything in your home could generate its own electricity, like plants do?" she wondered. Traveling to Switzerland, she met Michael Grätzel who invented a dye-sensitized solar cell. "These generate electricity with the help of color, a bit like a plant does," Marjan explains. "You can integrate them, for example, in a table. That will generate electricity while you are away, so you can use your computer when you come home."
Leonie and Lois are product designers. As students, they were appalled by the costs of new materials, so they started looking in garbage containers. "It's wonderful if you can make something old into something new." During an internship with designer Porky Hefer, they created one of his famous bird's nest with used strap bands. They have now turned their attention to old jeans, developing a mobile factory where they turn them into 'jeans mush', which can be used to make lamp shades or stool covers. "We'd like to use it for floors, cupboards or even whole houses. In the future, waste will be a thing of the past."
Sean Pieters is a self-confessed tinkerer and part of the 'Collectief', a group of 'crazy, multi-skilled problem solvers'. "Tinkering is good for society," says Sean. "Take Thomas Edison. He thought up a thousand ways that wouldn't work before coming up with the lightbulb." Sean has three pieces of advice for the audience. (1)"Just start doing things and learn along the way what works and what doesn't. "(2)"Do the impossible […] Do things you know nothing about; it will force you to learn." (3)"This may sound like a cliché, but make life into an adventure." At the Collectief, he and his colleagues started out building websites and will soon be opening a café in Delft without any hospitality industry experience.
Kamiel Scholten was always fascinated by photography. As a kid, he made imaginary photos, forming a frame with his hands and shouting, "photo". He got his first professional camera at the age of 12. "I never read the instruction manual, just kept on trying. I experimented a lot, looking at my photos to see what worked or not." In 2012, he made his first foray into music photography at the Westerpop festival in Delft. His breakthrough came in 2013, when Chef's Special's frontman Joshua posted a photo made by Kamiel as his profile photo on Facebook. "It soon got over 500 likes, so then I sent some more of my photos to their management," says Kamiel. Though only 16, he is now a sought-after pop photographer and hopes to attend the photo academy to "pick up more techniques".
Aagje Hoekstra graduated as a product designer in 2013. For her graduation project, she wanted to make something both beautiful and sustainable. "I started studying mealworms in my student room. In six months, they grow from larvae to beetles." Mealworms are grown as animal feed. Since, dead beetles are an inevitable waste product from these farms, Aagje decided to make bio plastic from their skeletons. "They are waterproof and strong. So far, I've made my beetle plastic into lamp shades and jewelry. I now want to investigate further what the properties and possible applications of this material are."
Huibert van Os is a young entrepreneur. He and his team work as floor managers during events, which actually involve a lot of work. "It means you have to be able to communicate with all parties involved. You have to make the different values and interests of all those parties meet and know how to take the right decisions at the right moment," he explains. Growing up abroad, he had to adapt to different cultures. "That taught me that all people have their own, personal truth," he shares. "You should understand that your view on things is only subjective, but it is from that viewpoint that you have to take decisions."
Lonneke Boonzaaijer asked the audience whether they recognized this situation: "You have to go to a party, but have absolutely nothing to wear." From there, the idea for a clothes swap service was born. She started off with a website, but she was a bit over-enthusiastic. "I imagined if people wanted to swap clothes, they would also want to swap books and what have you. So, in the end, the site didn't appeal to any specific target group." Now, together with partners Tim and Harmen, she is launching Swapp, an app for girls where they can check out each other's fashion and accessories to swap or sell them. Having quit her day job as a real estate agent, Lonneke is also taking on projects via 'Aim for the Moon'.
Investigative Journalist and Filmmaker Loretta van der Horst studied political science in Utrecht. Wanting to combine her love of writing and travel with her knowledge of Spanish and English, she did an internship at a newspaper in Santiago, Chili. She was there in 2010 when a major earthquake hit. "Bridges and roads were destroyed, phone lines were down, convicts escaped," she says. The earthquake changed her life. The situation was even worse than she had imagined as a tsunami had followed the quake. "I should have been able to film it all, I realized. It was then I decided to become a documentary maker." After studying journalism in New York, she gave up a career with a major television network and returned to South America to film. Among others, she made a documentary on the trafficking of women in Mexico.