TEDxDelft 2015-2016 | Kauan von Novack | Giving voices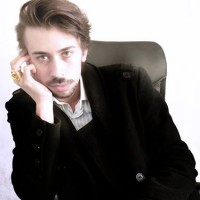 " TEDxDelft is the epitome of giving people a voice," says Kauan von Novack, TEDxDelft's new Marketing Manager. The decision to join TEDxDelft was therefore an easy one for von Novack, a founding partner of a marketing and advertising agency. "Giving people voices is my passion."
As the Marketing manager, von Novack is charged with all TEDxDelft communications, such as social media and blog. "My mission is to bring structure and data to TEDxDelft and enhance the experience of the attendants," he explains. With every new season the organisation works to bring the experience to the next level. For von Novack one of the ways to achieve this will be by making better use of data analysis to improve communication to the public. Doing this is an important part in ensuring the annual goals will be achieved.
Given his background and motivation throughout his career, von Novack is the perfect fit to take charge of the marketing for this new season. With the annual goals firmly in his sights, it is certain he will make sure that the TEDxDelft voice will be heard loud and clear.
How long have you been a part of the TEDxDelft team?
Since three months ago.
Who is your favourite speaker from a previous TEDxDelft conference and why?
Boyan Slat and how the oceans can clean themselves. So inspiring, so visionary. One of the best, ever.
Theoretically if you could choose any one person, historical or fictional, to give a talk at TEDxDelft who would it be and why?
Oscar Wilde would be a fabulous speaker. I think his aesthetic views, presence and boldness would still shock and amaze the world.
Are there any hobbies you secretly enjoy outside of work?
I run 20 km three times a week and like to read at least one book per week.
If you could give a TEDx talk, what would you talk about?
On how to be successful by being creative. I even wrote a book about that, and translating the business vision into creative lenses is one of my passions.
https://www.tedxdelft.nl/wp-content/uploads/2016/02/TEDxDelftLogoWebsite.jpg
0
0
Pierre Mathieu
https://www.tedxdelft.nl/wp-content/uploads/2016/02/TEDxDelftLogoWebsite.jpg
Pierre Mathieu
2015-10-22 17:42:01
2015-10-22 17:42:01
TEDxDelft 2015-2016 | Kauan von Novack | Giving voices