TEDxDelft 2016 | TEDxDelft Salon | Sustainable travel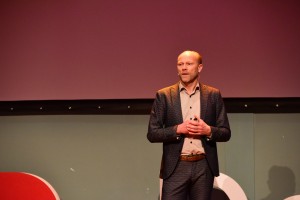 "When you think about sustainable travelling, the first thing you think of is the fuel consumption used to get to your destination," Robert Mulder, architect says. "But what about the hotels?"
Architecture is not just Mulder's career, it is a passion. He graduated from TU Delft's civil engineering faculty with a major in architecture. He started out as an architectural draftsman, before further climbing the ladder, from architect to project architect. Eventually, he would become owner of his own agency, working on several prestigious projects.
Hotels contribute extensively to climate change. "Hotels are heated or cooled 24/7, which is unnecessary," explains Mulder. Many measures have been taken, such as leaving towels on the floor, or the card that turns off all electricity when a guest leaves the room. But these measures make relatively little impact on the environment. Mulder argues that a more extensive rethinking is needed of what a sustainable hotel is.
By designing a new hotel from the ground up with sustainability and reusability in mind, the possibilities to minimise a hotel's footprint become almost endless. By reusing water from the shower for the toilet, and then for greenhouses on the roof of the hotel, less water is being used. The greenhouse allows the hotel to grow its own fruits and vegetables, and the gases help to warm up the hotel. A system built into the facade further helps with regulating room temperature by allowing sunlight in or blocking it, depending on whether or not guests are in the room. By rethinking hotels and creating a more integrated system of use and reuse, Mulder is convinced hotels will have a big impact on the environment in the future.
https://www.tedxdelft.nl/wp-content/uploads/2016/02/TEDxDelftLogoWebsite.jpg
0
0
Pierre Mathieu
https://www.tedxdelft.nl/wp-content/uploads/2016/02/TEDxDelftLogoWebsite.jpg
Pierre Mathieu
2016-01-24 16:53:00
2016-02-29 20:01:15
TEDxDelft 2016 | TEDxDelft Salon | Sustainable travel