TEDxDelft 2016 | TEDxDelft Salon | Harvest motion, eliminate batteries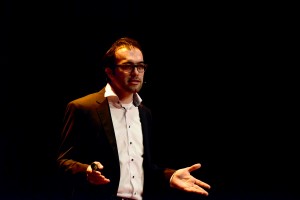 "We are going to have 20 billion low-powered devices by 2020," Dr. Nima Tolou says. "Let me tell you about some of those 20 billion."
In 2012 Tolou received his PhD from TU Delft's Department of Biomechanical Engineering, dealing with micro-electro-mechanical systems. Since then, he has continued to focus on MEMS, publishing several research papers and submitting eight patents, seven of which he is named first inventor on. He currently works as Assistant Professor at the Department of Precision and Microsystems Engineering at TU Delft, as well as being an Intra-European fellow at Imperial College London.
"Every day 30,000 containers go through the port at Rotterdam," Dr. Tolou explains. "All equipped with sensors to measure temperature, or report its location." These small devices all use batteries. In some cases, it can even be crucial, for instance with pacemakers. These devices also use batteries, which have to be replaced occasionally. Together, all these used batteries could fill several Olympic stadiums.
Finding an alternative to batteries, therefore, would be tremendously beneficial to the environment. "Why not harvest energy from motion to power devices?" Dr. Tolou asks. By capturing kinetic energy, it can then be transferred to a device which can store and send it to the device whenever it requires energy. Until recently, however, energy harvesters only worked when under regular and even motion. "But now it is possible to build these harvesters that can work with random motion," he announces. If used on a large-scale this could reduce the dependence on batteries, potentially leading to a battery-free environment.
https://www.tedxdelft.nl/wp-content/uploads/2016/02/TEDxDelftLogoWebsite.jpg
0
0
Pierre Mathieu
https://www.tedxdelft.nl/wp-content/uploads/2016/02/TEDxDelftLogoWebsite.jpg
Pierre Mathieu
2016-01-24 15:58:04
2016-02-29 20:02:28
TEDxDelft 2016 | TEDxDelft Salon | Harvest motion, eliminate batteries