TEDxDelft 2016 | TEDxDelft Salon | A wheel without a centre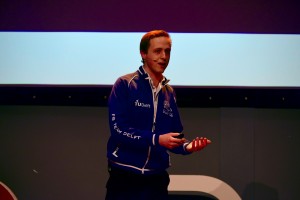 "Cars have changed a lot over the past 100 years," Bas aan de Stegge explains. All except for the combustion engine.
Aan de Stegge started out as a mechanic for Formula Student Team Delft, working on the powertrain while studying for his Bachelor in Mechanical Engineering at TU Delft. He would later become part of the team's Chief Recruiting Committee. In this role, he was charged with recruiting new engineers. Eventually, he would take on the role of Chief Executive Officer for the team, a role he continues to fulfill to this day.
A combustion engine accounts for a significant part of a car in terms of weight. In addition, it is a major cause of greenhouse gas emissions. Many elements of the car have evolved throughout the years, but the combustion engine has not. In recent years the number of electric cars has risen, but they still use concepts from cars as they have been built throughout the years. At Formula Student Team Delft, they decided to take up the challenge to develop a completely new drivetrain.
"Electric motors are used to store energy, and to propel the vehicle forward," aan de Stegge explains. Electric motors can be far smaller than they currently are. The team decided to try and place this new type of engine in a new place: the wheel.  This meant a complete re-imagining of the wheel, more specifically the rim. What they came up with is a spoke-less wheel, which includes a motor to propel the car, as well as the brakes. "It offers several advantages: the car is lighter and the performance is better." Though the technology is still relatively new, aan de Stegge is convinced that this technology will eventually replace the combustion engine, definitely bringing the car into the modern era.
https://www.tedxdelft.nl/wp-content/uploads/2016/02/TEDxDelftLogoWebsite.jpg
0
0
Pierre Mathieu
https://www.tedxdelft.nl/wp-content/uploads/2016/02/TEDxDelftLogoWebsite.jpg
Pierre Mathieu
2016-01-24 15:39:50
2016-02-29 20:00:19
TEDxDelft 2016 | TEDxDelft Salon | A wheel without a centre