TEDxDelft 2012 | Performer: Spinvis – cut up mini film stories disguised as pop songs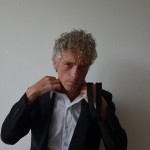 Erik de Jong (Spijkenisse, February 2, 1961) is Spinvis. Once a student of composition at the conservatory of Rotterdam, De Jong debuted in 2002 with "Spinvis" The music could be described as lo-fi singer/songwriter/sample music, or as cut up mini film stories disguised as pop songs. De Jong's success story was an unlikely one. He was already in his forties when he debuted as a pop artist. His self-titled debut album released in 2002 became a massive success, surprising critics, music industry peoples and De Jong himself.
As a teenager De Jong had played a variety of instruments in different bands. Consequently, he played all the instruments on the Spinvis album himself. A short string of live shows in the spring of 2003 turned out to be a great success. A few of these live tracks can be heard on Nieuwegein Aan Zee , released in 2003. In 2004, De Jong won the Annie M.G. Schmidt award, a prestigious award for the best theatre song of the year, with "Voor Ik Vergeet," He also wrote the title song to "Theo van Gogh"'s TV series Medea.
Spinvis toured Dutch theatres with his show "Lotus Europa". The end of 2005 saw the release of his second album, "Dagen Van Gras, Dagen Van Stro", the title a reference to R.A. Lafferty's Days of Grass, Days of Straw. In January 2007, Spinvis was awarded the Popprijs, an annual award given to the Dutch artist with the most valuable contribution to Dutch pop music. Spinvis capitalized on his success by releasing a third album, Goochelaars & Geesten, in the fall of 2007 (the first edition came with a bonus disc containing music De Jong had written for the Belgium movie A Perfect Match).
The rest of 2007 was spent performing a theatre tour for Op Een Avond In Het Heelal. In 2009 Spinvis toured across Belgium and Holland with "KamerMuziek" (ChamberMusic), a very high-tec musical performance based on video-loops. In 2010 he won the Johnny van Doorn-prize for spoken literature. After numerous side projects and composing for films he released "Tot Ziens, Justine Keller" in 2012. This album was by most Dutch critics considered to be the best pop album of the year.
https://www.tedxdelft.nl/wp-content/uploads/2016/02/TEDxDelftLogoWebsite.jpg
0
0
Rob Speekenbrink
https://www.tedxdelft.nl/wp-content/uploads/2016/02/TEDxDelftLogoWebsite.jpg
Rob Speekenbrink
2012-07-10 11:00:36
2015-08-01 05:02:32
TEDxDelft 2012 | Performer: Spinvis – cut up mini film stories disguised as pop songs