Press release: TEDxDelft 2012 | 5 October: advertisement hater, robot arm and space travel The second edition of TEDxDelft is bursting with variety and inspiration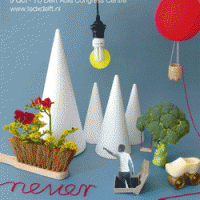 An advertising creative who hates ads; a woman with Asperger's syndrome who – literally – lets us take a look inside her head; a world famous floral artist who makes incredible creations from flowers; a robot with a solution to the ageing population; an artist who performs mini-films as pop songs; a businessman who wants to colonise Mars: All of this and more, as well as TV and theatre personality Aldith Hunkar, form the ingredients of TEDxDelft, which will take place on 5 October in the Aula at TU Delft.
In the spirit of "ideas worth spreading", TEDx is a programme made up of local, independently organised events that bring people together to share a TED experience. After the success of TEDxDelft 2011, which was attended by almost 1,000 people and watched online by a further 2,000, this year TU Delft will once again open its doors to inspiration seekers for a whole day. Under the motto "Never grow up", twenty performers will let visitors see, hear, feel and smell their unique "idea worth spreading".
Go to www.tedxdelft.nl for more information about the event or to register.
Never grow up
"This year's theme, 'Never Grow Up' really suits the character of TU Delft," says Rob Speekenbrink, initiator and licensee of TEDxDelft. "This region is a breeding ground for new ideas and innovations. 'Never grow up' appeals to a feeling that everyone recognises: the amazement that children have and adults lose, if they're not careful. Our performers will show, each in their own way unique way, how they continue to ask questions, have deviated from existing paths and keep pushing the boundaries." Just under a thousand people are coming together for TEDxDelft: students, business people, scientists and opinion leaders in the world of technology and design. The TEDxDelft live stream can be followed via www.tedxdelft.nl.
Scrapheap challenge
In addition to TEDxDelft, two side events are also being organised this year. The first is the TEDxDelft Award: a competition among students and high-tech start-ups for the best "idea worth spreading". The winner will win a spot on the main stage at TEDxDelft. The second is TEDxDelft Scrapheap Challenge – a competition in which teams have to make a working vehicle from waste and discarded machinery – which will take place in Delft city centre on 28 September.
About TEDx, x = independently organized event
In the spirit of ideas worth spreading, TEDx is a program of local, self-organized events that bring people together to share a TED-like experience. At a TEDx event, TEDTalks video and live speakers combine to spark deep discussion and connection in a small group. These local, self-organized events are branded TEDx, where x = independently organized TED event. The TED Conference provides general guidance for the TEDx program, but individual TEDx events are self-organized. (Subject to certain rules and regulations.)
About TED
TED is a non-profit organisation that is devoted to "ideas worth spreading". TED was set up 27 years ago as a four-day conference in California and supports ideas that could change the world through various initiatives. At TED, leading global thinkers and doers are asked to tell their life stories in 18 minutes. Their talks can then be accessed for free at TED.com. Previous TED speakers have included Bill Gates, Jane Goodall, Elizabeth Gilbert, Sir Richard Branson, Benoit Mandelbrot, Philippe Starck, Ngozi Okonjo-Iweala, Isabel Allende and the former British prime minister Gordon Brown. Two large TED events take place each year: the TED Conference, which is held each spring in Long Beach, California (at the same time as the TEDActive conference in Palm Springs), and TEDGlobal, which is held each summer in Edinburgh, Scotland.
Note to editors
Journalists are cordially invited to attend TEDxDelft. To register, please contact Kim Colman via kim@tedxdelft.nl.
For more information, please contact:
Kim Colman: kim@tedxdelft.nl or +31 (0)6 17 242 987.
Ynke Feenstra: ynke@tedxdelft.nl of +31 (0)6 3020 6686
Follow TEDxDelft:
www.tedxdelft.nl
www.twitter.com/tedxdelft
www.facebook.com/tedxdelft
https://www.tedxdelft.nl/wp-content/uploads/2016/02/TEDxDelftLogoWebsite.jpg
0
0
Rob Speekenbrink
https://www.tedxdelft.nl/wp-content/uploads/2016/02/TEDxDelftLogoWebsite.jpg
Rob Speekenbrink
2012-10-01 10:37:05
2015-08-01 05:16:43
Press release: TEDxDelft 2012 | 5 October: advertisement hater, robot arm and space travel The second edition of TEDxDelft is bursting with variety and inspiration